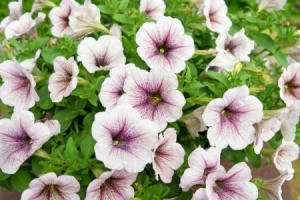 I have spent a bunch of money on annuals for my new window boxes this year. I used red vining geraniums, white petunias and asparagus fern.

Someone told me if I take out the geraniums this fall and keep them in my basement, that they would be good as new next summer. Has anyone tried this and does it really work?
Do you just keep them as potted indoor plants and keep watering them or what? Also, can you grow wave petunias from seed?
Answers

August 8, 2007
0

found this helpful
I overwinter annual geraniums and plumbagos in my garage and they stay dormant, no watering or fussing all winter and after frost, fertilize and they are as good as new - hope that helps ( I got this off Garden Forums, it is not my own personal experience. But, if you Googe over wintering annuals you will get info.) Linda Jonson Bellevue, Ne.
By (Guest Post)
August 9, 2007
0

found this helpful
I have kept my geraniums a few times over the winters...most times they have "made it" one time they didn't
When they are done blooming, pull them out and clip most of the flowering part off, put them into brown paper bags and store them in the basement, where they will not freeze
Make sure you "put them out" as early as you can, as I have found they take a long time to bloom after this process. The other annuals, I don't know, I have never known or heard of anyone trying to keep these

August 9, 2007
0

found this helpful
I just leave my geraniums in pots and bring them in. I put them in a sunny window and water them all winter. They stay nice and green all winter, and are happy to be planted in the spring. I've tried over-wintering by the other methods suggested, but have never been successful. Thanks for asking about petunias. I've never thought about planting them from seeds, so I did a little research. This is what I found: forums.gardenweb.com/.../msg050205559905.html
I ran outside and collected seeds right away! Now, I can hardly wait to plant them!
By Mary ann (Guest Post)
August 9, 2007
0

found this helpful
I have kept my geraniums in my closet. They are beautiful again this Summer. I did lose one, but think it was some kind of hybrid. I also keep one of mine in kitchen all winter and water it like any house plant it does great in Summer outside. I have heard of people pulling geraniums from pots and hanging them to keep all winter. Mine were just kept in their pots.
By gwen (Guest Post)
August 9, 2007
0

found this helpful
Thanks loftworks! That was great info. I have some beautiful white waves that I hope I can get seeds from for next year. I cant believe all the petunias and geraniums I've thrown away over the years!
I'm basically a perennial lover but you always need a few annuals here and there.

Coreen Hart
Bronze Feedback Medal for All Time! 153 Feedbacks
August 9, 2007
0

found this helpful
I had the pleasure of seeing standard geraniums kept over winter in a sunny picture window in Idaho. They had grown to over six feet tall, and were blooming in January. They were tied up to nails at about one foot intervals. The lady also kept parakeets in several cages, and it was just like being in the Garden of Eden!
By (Guest Post)
August 10, 2007
0

found this helpful
If it weren't for the possiblity of bugs, I could really see me doing that! Or something similar with sun flowers or even black eyed susans. I have pictures of geraniums and some "nearly real" silk ones throughout the inside of my house already.
I am fortunate to have several vintage table cloths with geraniums on them, too. They belonged to my mother, who also gave me a photo of me sitting on one of them that was on our kitchen table at my "first birthday" party.
By Norma (Guest Post)
August 12, 2007
0

found this helpful
I pulled them out with the dirt with their roots and layed them on newspaper in a low sided box, and then put them in a dark basement. In the spring, I planted them whenit was warm enough, and cut them back to the green parts. They came back, but not as big as the first time.
Read More

Answers

Before the first frost sets in, take cuttings from annuals like coleus, begonias, fuchsias, and impatients. Remove any buds, then dip the ends in rooting compound, and plant the cuttings in a mixture of vermiculite and peat moss.
Read More...