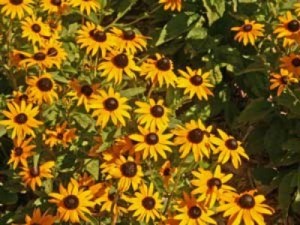 Botanical Name:
Rudbeckia hirta
Life Cycle:
perennial (short-live) or biennial
Planting Time:
spring or fall
Height:
2' to 3'
Exposure:
full sun to partial shade
Soil:
evenly moist, well-drained soil is best, but established plants will tolerate drought
Hardiness:
zones 5 to 10
Bloom Time:
mid summer to early fall
Flower:
shade of yellow, orange, gold and mahogany daisy-shaped flowers; single or double blossoms
Foliage:
green leaves on erect, sturdy stems
Propagation:
seeds
Suggested Use:
cut flowers, beds, borders, and country gardens
Growing Hints:
Sow seeds directly into the garden in the spring two weeks before the last frost date, or start seeds indoors several weeks before the last spring frost date. Don't cover seeds with soil as they need light to germinate, just press seeds lightly into the surface of the soil. Space plants 12 to 14 inches apart. Mature plants readily reseed themselves and seedlings are easy to transplant.
Interesting Facts:
A strain of Black-Eyed-Susan developed in the U.S., Gloriosa Daisies are prolific bloomers and often bloom themselves to death after only a season or two. Start each year with new plants or let flowers self-sow seedlings for the following spring.