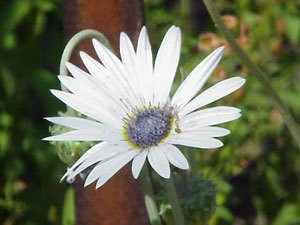 Botanical Name:
Osteospermum jucundum
Life Cycle:
Annual, tender perennial
Planting Time:
Spring or summer
Height:
12 inches to 18 inches
Exposure:
Full sun to partial shade
Soil:
Rich, well-drained soil
Hardiness:
zones
9 to 11
Bloom Time:
Early spring into summer
Flower:
Variety of colors
Foliage:
Green
Propagation:
Seeds, division in early spring, basil cuttings in summer.
Suggested Use:
Beds, borders, cut flowers
Growing Hints:
African Daisies thrive at temperatures of 75ºF. They will suffer damage if grown below temperatures of 41ºF. Although plants will grow in partial shade they tend to flower more poorly.
Interesting Facts:
Also commonly called Gerbera daisies, Transvaal daisies or Barberton daisies, the genus contains over 70 species distributed from Africa to Madagascar into tropical Asia and South America. African daisies come in a large variety of colors and are widely used commercially for cut flowers due to their long vase life.