Growing Hops
Solutions
Share on ThriftyFunThis page contains the following solutions. Have something to add? Please share your solution!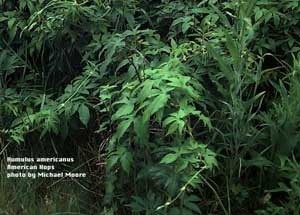 Botanical Name:
Humulus lupulus
Common names:
Hops
Description:
Hops have stout roots and tough, fibrous vines covered with dark green, heart-shaped lobed leaves. The female plants produce the compact, cone-like catkins called strobiles, which are harvested for beer making. Hops grow rapidly, quickly covering trellises and bare areas of the garden, with thick, dense foliage. Two types are commonly grown: The Japanese hop is a fast-growing, annual vine often used as an ornamental. It has broad, prickly, bright-green leaves and can grow as much as 35 feet in one season. The Common hop is a perennial vine, hardy to most zones, commonly grown for its strobiles (female flowers). Once mature, the strobiles are harvested and used for beer making and other purposes.
Life Cycles:
annual or perennial
Exposure:
full sun
Cultivation:
Hop prefers moist, nutrient-rich, well-drained soil and hot, dry growing conditions. Sow seed for Japanese hop directly outdoors about 18 inches apart. Provide it with support immediately if training to climb. It will reseed itself once established, but should be mulched heavily over winter. Start Common hop outdoors in the spring using transplants from division or cuttings.
Propagation:
Japanese hop plants reseed themselves, Propagate Common hop by division or from cuttings taken from female plants in the spring.
Parts Used:
flowers from female plants
Harvesting and Storage:
When flowers turn a light yellow in the fall they are ready to harvest.
Medicinal Uses:
Flowers from the Common hop are used to treat insomnia, headaches and improve digestions. People suffering from impotence or depression should not use hops.
Culinary Uses
Common hop is used in beer making.
Other Uses:
cloth and paper from stems; potpourri; decorative arrangements; garden ornamentals.
Categories
Pages
More
Categories