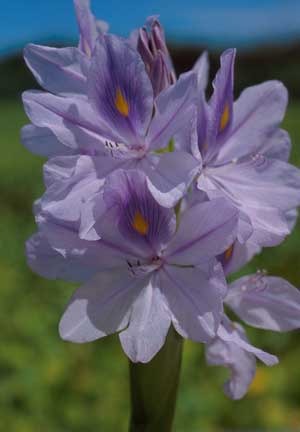 Botanical Name:
Hyacinthus orientalis
Life Cycle:
perennial bulb
Planting Time:
fall (forcing in winter)
Height:
8" to 12"
Exposure:
full sun or partial shade
Soil:
average to rich, well-drained soil
Hardiness:
zones 3-7
Bloom Time:
spring
Flower:
clusters of star-shaped fragrant flowers on stiff, upright spikes; flower colors include pink, white, yellow, violet and blue; single, double or multi-flora Hyacinths
Foliage:
green
Propagation:
bulbs
Suggested Use:
beds, borders, cut flowers, and displays; forcing bulbs
Growing Hints:
Bulbs are available in the fall with other spring bulbs. In most zones, bulbs can be planted to a depth of 4 to 5 inches. Colder zones may need to plant as deep as 8 inches and add mulch to protect the bulbs over winter. Remove the mulch in spring after frost danger has passed.
Bulbs have a tendency to split into smaller bulbs (producing smaller flowers) the second year. Applying a balanced fertilizer in the spring as leaves emerge will help to keep plants more robust the following season. Cut back the stalks after flowers fade. Don't cut back the leaves until they die back naturally-give them time to provide the bulbs with nutrients for next year's growing season.
Interesting Facts:
To force hyacinth bulbs in water, weigh bulbs down in a vase or glass bowl with pebbles and fill it with water until it covers the lower half of the bulbs. Keep the vase cool (under 50ºF) and dark for approximately 4 to 8 weeks until roots begin to form and the shoots begin to elongate. Then bring the bulbs into a warm sunny area and watch them flower. Add water as necessary.