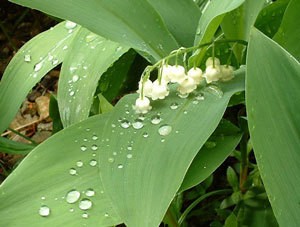 Botanical Name:
Convallaria majalis
Life Cycle:
perennial
Planting Time:
early spring or fall
Height:
12"
Exposure:
full to partial shade
Soil:
average soil
Hardiness:
zones 4-8
Bloom Time:
spring
Flower:
fragrant, tiny white, bell-shaped flowers
Foliage:
green, blade-like leaves
Propagation:
division (any season)
Suggested Use:
ground cover, shade gardens, fragrant cut flowers, and fillers
Growing Hints:
Start with purchased plants in early spring or fall. Plants should be spaced about 4 inches apart. Plants will benefit if mulched with 2-3 inches of compost to keep soil moist. Once established, Lily-of-the-Valley spreads slowly underground and can be propagated by dividing clumps of pips when plants are dormant in the spring or fall. These plants can become invasive and "take over" areas if not kept within boundaries.
Interesting Facts:
Lily-of-the Valley are often used in wedding bouquets for their fragrant delicate flowers that are not only white, but shaped like wedding bells.