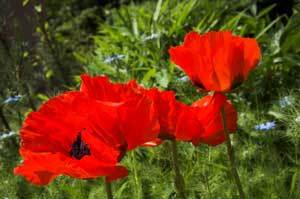 Botanical Name:
Papaver orientale
Life Cycle:
annual or perennial
Planting Time:
spring or summer
Height:
up to 3'
Exposure:
full sun
Soil:
average to rich, evenly moist, well-drained soil
Hardiness:
zones 2-8
Bloom Time:
late summer to fall
Flower:
orange to pink with dark brown to black centers; petals like crinkled paper
Foliage:
green
Propagation:
seeds
Suggested Use:
beds, fillers, borders and mass plantings
Growing Hints:
To be certain you get the color you prefer, unlike other poppies, it's best to buy Oriental poppies from nurseries. Plants will spread some, but prefer not to be disturbed. Divide them in the fall every 4 to 5 years if necessary. Dig deep to get as many of the roots as possible and discard the less vigorous parts of the clumps.
Interesting Facts:
Over the years, Oriental poppies have grown in popularity due in part to Georgia O' Keefe's 1928 painting entitled, "Oriental Poppies," in which she painted the flowers large and outside of the normal perspective with the hopes that people would view them with fresh eyes.'