EllenB
Gold Post Medal for All Time! 858 Posts
The best light for plants may be natural light, but using artificial lights to sprout seeds and grow plants does have its advantages.
It's never cloudy and windy indoors, artificial lights eliminate the need for south facing window sills (or any windows at all), and we can make "sunny days" last as long as we want them to no matter the time of year. In short, our gardens can keep blooming all year long!
Choosing the Right Light
There are so many different lights designed and marketed specifically for growing plants, that figuring out which type to use can seem like a real challenge.
Incandescent: These lights don't work well for indoor growing. They are inefficient, don't emit the right quality of light, and the heat they generate can damage plant leaves.
Grow Lights: Specially designed high output fluorescent ("grow") lights work great, but unless you operate a green house or your livelihood depends on selling seedlings, you may find the fixtures and replacement bulbs too costly.
Compact Fluorescent Lights: Some high output CFLs are currently marketed for growing. They require the purchase of special (expensive) fixtures and replacing just one bulb (although you won't have to replace them often) can cost from $50-$200.
In some cases, the smaller versions currently used for home lighting can be used successfully on single plants or flowers with a suitable fixture like an overhead desk lamp.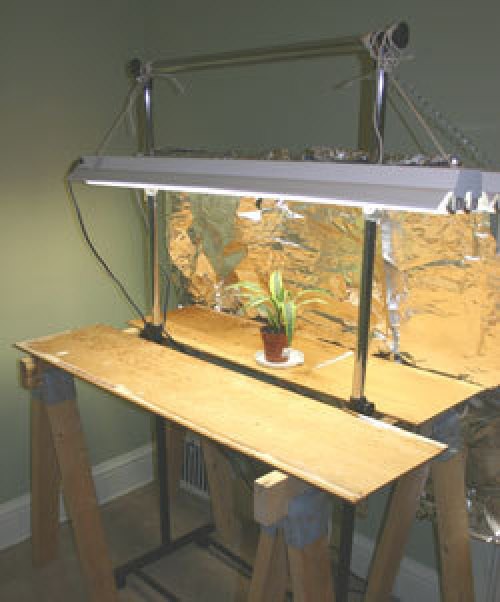 Fluorescent Tubes. Regular old "non-fanfare" fluorescent tube lighting is the easiest and most common type of artificial lighting for growing plants and starting seeds. It is also highly efficient and the least expensive form of artificial lighting. The bulbs themselves are around $2-$3, compared to a minimum of $20 for most "grow" lights, and use very little electricity. You should be able to find a shop light fixture compete with hanging chains and two fluorescent tubes for around $20-$35 at most home and hardware stores.
The fluorescent tubes are usually rated to last anywhere from 18 months up to 4 years but lose 85% of their intensity before they burn out. For plants that require a maximum amount of light intensity, replace bulbs about 70 percent of the way through their rated life. If you are using more than one light, you can alternate changing them out to maintain intensity.
The Right Light Color
Plants grow best when provided with the same spectrum of colors (violet to red) as natural sunlight. Although some artificial lights can come close to the quality of natural light, most produce either more or less of certain colors in the spectrum.
Fluorescent tube lights are available in either cool white colors (producing light in the blue range) or warm white colors (producing more light in the red range). Ideally, you'll want to use one "cool" bulb and one "warm" bulb to provide the fullest, most natural spectrum of light.
Setting Up Your System
If you don't have a ceiling to hang your shop light fixtures from, consider buying an adjustable garment rack to hang your light fixtures from. Available at most discount stores, you can find them for as little as $15 dollars. Most also come with wheels, making it a snap to move your growing station around as needed. Try to find one with adjustable heights and widths so you it can accommodate any size platform or shelving unit you happen to have handy.
Specially designed shelves and hydroponics growing racks are a nice luxury if you can afford them. They will probably eat up a large chunk of your gardening budget, but they won't result in healthier plants. For the budget minded, a couple of wooden saw horses and some scrap plywood or wooden pallets will work fine as a platform to support your plants or seed trays. The important thing is to keep them off the ground and close to the lights.
Intensity and Duration
Providing plants with the optimum amount of light for growth all boils down the fundamental aspects of duration and intensity. Duration is a constant for most types of plants. They need at least 12-16 hours of natural light, or sufficiently strong artificial light to maintain active growth. Less light and growth will substantially slow down. Use a timer to ensure plants get a consistent amount of light. It will save energy and free you from having to baby sit.
Intensity needs can vary widely from plant to plant. In general, plan on providing 25 to 30 fluorescent light watts per square ft. for vegetables, 15 to 20 watts per square ft. for seedlings and house plants, and 10 to 15 watts per square ft. for germinating seeds. Most gardeners find that two 4 ft. long, 40 watt bulbs (placed 6 inches apart) provide adequate intensity for most of their needs.
As a general rule, mature flowering or foliage plants should be placed within 6 to 12 inches below lights. Seedlings grow best under high intensity light conditions and should be kept within 2-3 inches of the lights. Draping lights with aluminum foil (shiny side down), will help capture and reflect the maximum light back on to the plants. Watch plants carefully and raise or lower the lights as needed. Scorched leaves indicate that lights are too close. Long, spindly growth or pale leave indicate that the plants are not close enough to the lights or that lights should be kept on for a longer durations.
Proper Light Disposal
One downside to any type of fluorescent lighting is that disposal raises certain environmental concerns. Fluorescent tubes contain a small amount of mercury necessary for initial firing. This minute amount of mercury is usually not considered a significant health threat, even if a light should happen to break. Another potential concern in older lights is the lamp ballasts. Those manufactured before the late seventies may contain PCBs, a known and banned carcinogen.
The EPA currently considers most fluorescent lighting from residential waste to be safe for municipal landfills. To be on the safe side, many local communities have elected to follow their own disposal guidelines, usually involving disposal at a hazardous waste drop off site. Check with your local waste management company for proper disposal in your community.
Read More

Comments