There are several different kinds of Portulaca. Probably the most often grown by the home gardener is Portulaca pilosa. It's common name is moss rose. With a 25¢ pack of seed from a local dollar store, you can have a pretty, multi colored display of low growing, almost carefree flowers from spring to late fall.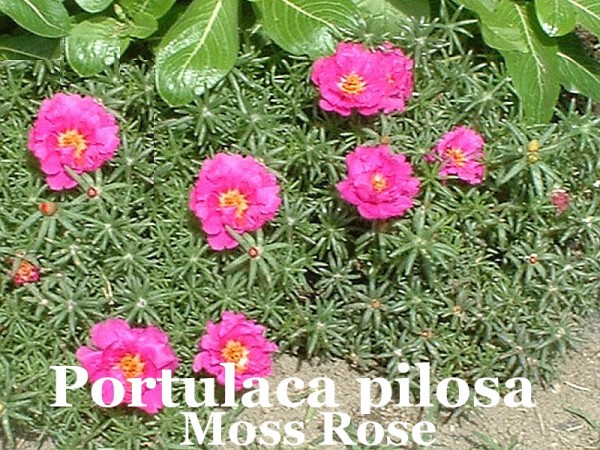 One particular Portulaca is considered to be an invasive weed. It is the Portulaca oleracea. It's common name is purslane. By many European gardeners, it is known as Pusley. Though considered a weed, it was often used as a supplement to the diet, usually added to soups and stews.
There is a sub species of Portulaca oleracea known as Poleracea sativa. It has much larger, more succulent leaves than it's weedy relative. It also has a more agreeable taste. It is not bitter and tastes slightly lemony. It bears the common name golden purslane. This is the purslane studied most often to determine it's health benefits. It contains so many important nutrients, I won't even bother to list them here. You'll find many articles online detailing just how nutritious this plant actually is. It may be considered a near perfect food.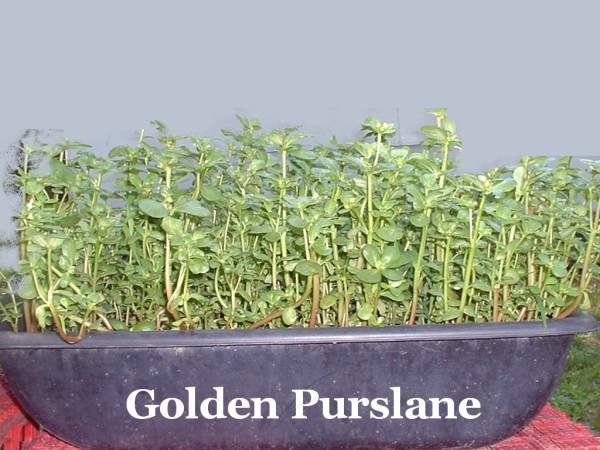 The list of ailments said to be helped by eating this purslane is also quite long. Again, you can read all about that, online. I grow golden purslane every year and can speak to at least two of it's non dietary benefits. It improves the appearance of the skin. Just a few days after eating as little as a tablespoon a day, I notice a sheen on my chest. A few days later, that sheen spreads to my arms and face. My skin keeps this sheen as long as I eat the purslane. I actually look healthier.
You can also read online about the anti-inflammatory agents found in this purslane. They are said to be just as effective as over the counter products without the negative effects such as stomach upset. Here is my account of those claims. I was having a really mean arthritis flair up. It was so bad, I could not walk. I was given a shot of steroids. Then I was put on a maintenance dose of 800 mg Tylenol every day. The Tylenol helped, but was causing stomach pain. By eating purslane every day, I was able to stop taking any of the Tylenol. I was just as pain free as when taking Tylenol and there was no stomach upset.
A word of caution to anyone considering using purslane as an anti-inflammatory: Most anti-inflammatories have blood thinning properties. So does the anti-inflammatory agents found in purslane. I would not advise using an over the counter anti-inflammatory and purslane at the same time, and if you are already taking a blood thinner, you probably shouldn't use purslane at all without a doctor's approval.
Another variety of purslane is Portulaca umbraticola. It's common name is 'wingpod portulaca'. This is the one you will likely find in garden centers, maybe along with the smaller pilosa. It is usually labeled 'purslane'. You're likely to find it in larger containers than pilosa which is usually sold in 6 cell packs. The wingpod is often sold as a hanging basket.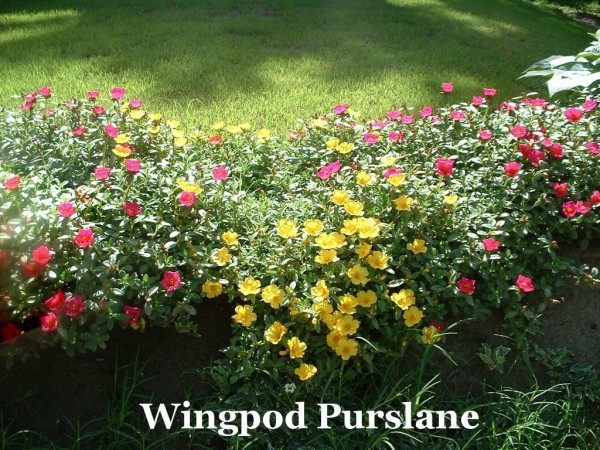 Two years ago. I had one small sprig of a red wingpod. Believe it or not, all the red flowering plants in the pictures came from that one sprig, and in just two years. Did I say invasive? I should have added 'aggressive. Maybe that's why the European farmers dislike the plant so much.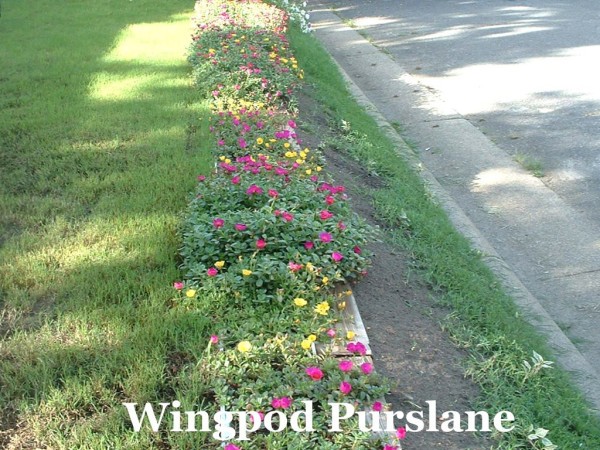 I taste all my portulacas. The golden purslane was my choice for eating as is or in a tossed salad. Since tasting the wingpod, it is now my choice. It has very little taste, and what there is reminds me of a new, tiny leaf of Buttercrunch lettuce.
I eat purslane only during it's growing season. I have tried freezing it for winter. When thawed, it is a brown mush. I tried dehydrating it. That was awful. I pickled 8 half pint jars. Edible but not very tasty. Purslanes like it very hot and dry. Growing it indoors over winter would be too costly.
After reading a lot of the many articles written on purslane, I will continue to grow it every year. As unbelievably healthy for you as it is, more studies may reveal even more benefits.
Give it a try, Y'all. Maybe a few leaves in a tossed salad?