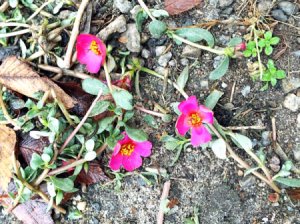 Yes, those are Portulaca umbraticola. Mine grow so thickly, I find myself thinning them every year. Here are some thinnings I haven't yet picked up and taken to the compost pile.
Anything special here? Indeed there is! The Life Force. Within these plant's programs are instructions to make seed so that the program, itself, will continue.
These thinnings were ripped from their bed five days ago. Since that time, they have had no food nor water. Even during their slow, but inevitable death, their programs continue to play. They will do so til the very last.
At day five, one program still very active in these plants, is for the blooms to open and close several times a day, triggered by the changes in intensity of light.
So, without food or water, or even a root system, the will to survive and procreate is very much alive in these dying plants. How is that?
If we knew everything, there would be no mysteries, life would be very boring.
What is life?
Life is a program. Consciousness is that instrument on which the program is played.
But then, Consciousness is a program, too.
You knew that, didn't you?