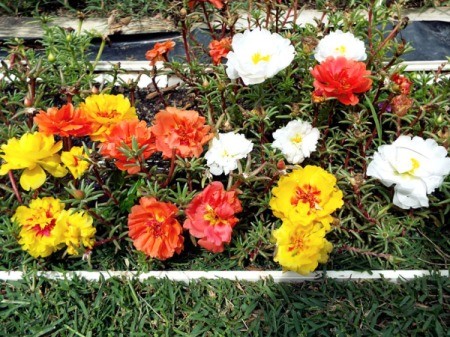 Photo Description
There are so many varieties of portulaca, I get confused. Understandable, as the taxonomists don't always agree on what's what in this Portulacaceae family. If I'm not mistaken, here, I am growing Portulaca Grandiflora, commonly known as 'Moss Rose'.
The picture shows a one foot section of a fifty foot border. Naturally, I captured the best looking section. When the entire border has filled in nicely, I will submit a picture of the whole thing.
The moss rose is growing in sunken rain gutters. This keeps everything neat, and mowing and edging is a breeze. And if Bermuda grass should creep into the gutters, it's so easy to get out because it can grow to only a depth of 4 inches.
I have pictures of removing soil and putting the gutters in place. I hope to submit those for posting, soon. All I'm waiting for is for the moss rose to thicken up a bit as I want to show a nice finished product.
Now, this is ThriftyFun, so it's expected that I divulge how frugally I grew this 50 foot border. (This is flowers only. I will get into the cost of the gutters when I do an article on them). Are you ready?
I paid not one red cent! I started rooting bunches and bunches of Mexican heather to grow in these gutters. Even before the heather had rooted well enough to transplant to the gutters, I saw something else coming up in them.
Lo and behold! Moss rose volunteers everywhere. I would have expected a few as I grew some in the gutters last year. But this many? They were even scattered on the lawn. No sweat. I just transplanted those to the gutters.
Isn't it nice when things go the way we would have them go all the time, if only we could? Yes!
Add your voice! Click below to comment. ThriftyFun is powered by your wisdom!
June 27, 2017
0

found this helpful
Those seem to be doing nicely so your next article should be in the making soon. Sounds like a very interesting way to plant a nice border.
I did think Moss Rose was an annual so do you collect seeds or overwinter some of your plants? Some of mine die back (frost usually) but generally return later. I would like to fix a border but just planting a row does not always look that good and I usually have to keep it trimmed with an edger so I will be sure to read your post on using gutter strips.
Add your voice! Click below to comment. ThriftyFun is powered by your wisdom!