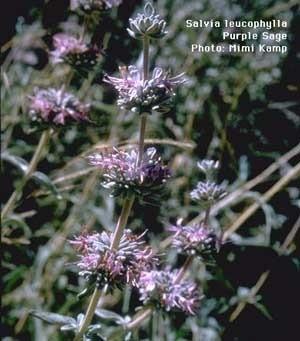 Botanical Name:
Salvia officinalis
Common names:
Garden Sage
Description:
Sage is actually classified as a dwarf, semi-evergreen sub-shrub, but most gardeners think of it as a classic herb that forms tidy mounds of aromatic foliage. Most cultivars grow 18-24 inches high. Classic cultivars have velvety grayish-green foliage and spikes of petty blue to pale purple flowers that appear in the late spring and early summer. Other varieties are available with multi-colored or deep purple leaves and various shades of white or pink flowers.
Life Cycle:
hardy sub-shrub
Exposure:
full sun
Cultivation:
Sage isn't that fussy about soil, as long as it's well drained. Traditional cultivars can be grown from seed, but not easily, and variegated and colored-leaved cultivars are best started from summer cuttings or by layering in the fall.
Plants should be pruned often to keep them from getting overgrown and leggy and may need replacing every 3-4 years when they start to lose their compact shape. Sage grows best in warm climates. If grown in northern zones, it can be reluctant to flower, and even when protected, tends to look ragged by spring after suffering through winter cold.
Propagation:
cuttings and seed
Parts Used:
leaves
Harvesting and Storage:
Harvest leaves lightly the first year to enable plants to established themselves. Take leaves as needed or cut the entire stem. Give plants at least 8 weeks prior to the first frost to establish new growth in preparation for winter.
Medicinal Uses:
tooth cleanser; antiseptic
Culinary Uses
stuffing; sauces; fish dishes; salads
Other Uses:
hair-care; scented bath; potpourri