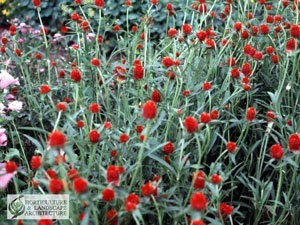 Botanical Name:
Gomphrena globosa
Life Cycle:
annual
Planting Time:
spring or summer; start indoors 8 to 10 weeks before the last frost
Height:
12" to 24"
Exposure:
full sun; thrives in hot, dry locations
Soil:
rich, well-drained soil, neutral pH
Hardiness:
n/a
Bloom Time:
all summer
Flower:
red, orange, white, pink and purple
Foliage:
leaves are hairy and wooly-white when young, turning green as they age.
Propagation:
seeds
Suggested Use:
beds, borders, edging, cut flowers and dried arrangements
Growing Hints:
To grow for cut flowers or dried arrangements plant them closely together to force longer stems. Cut when flowers are just starting to open and hang upside down to dry.
Interesting Facts:
Globe Amaranth is native to Panama and Guatemala in Central America. It was once a favorite of English gardens and also attracts butterflies.