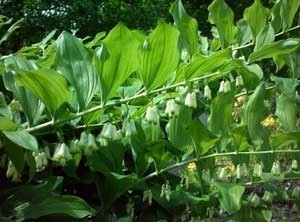 Botanical Name:
Polygonatum biflorum
Life Cycle:
perennial
Planting Time:
spring or fall
Height:
1' to 6'
Exposure:
shade
Soil:
rich, moist, well-drained soil with am acidic to neutral pH
Hardiness:
zones 3-9
Bloom Time:
late summer to early fall
Flower:
greenish-white, bell-shaped flowers; produces blue berries
Foliage:
green, tints to yellow in fall
Propagation:
seeds and division of rhizomes
Suggested Use:
beds, borders, groundcovers, banks by streams and shade gardens
Growing Hints:
Plant rhizomes in spring or fall 1 to 2 inches deep and spaced 1 to 2 inches apart. Plants produce blue berries and can also be sown from ripened seed in the fall (separate seed from pulp), but expect to wait between two and four years for them to flower. Divide plants in the spring, or let them spread and reseed themselves.
Interesting Facts:
Solomon's seal is native to North America and well-suited to growing in the coniferous forests of the Northeastern and Southeastern United States as well as deciduous woodland and prairie environments. Plants tend to be deer resistant.