Any advice on helping two cats get along would be appreciated. We got married and both came with cats. I moved into his house. His cat is part Siamese female; my cat is a curly-tailed cream tabby with La Perm on her tummy. His cat is sleek and puma like, and laid back, she's 16. My cat is frisky, 7-years-old, high spirited. His cat is pretty much terrorizing my cat, and keeping her outside quite a lot. His cat is basically ruling the roost.
Cubangirl from Seattle, WA

Answers:
Helping Two Cats Get Along
When I bring a new cat home when there is already one (or 2) here, I keep the new one in the pet taxi during the day so they can check each other out safely. The new cats litter box and food, etc. are in the bathroom for awhile and the cat is safe locked in there at night so it can run around some. It doesn't usually take long. (I now have 3... 2 males and a young female and they are great together.) (06/30/2007)

By Chris
Helping Two Cats Get Along
We got a second cat and our first is not too keen on her yet, but it is coming along quite a bit. First, never leave them alone. If the first cat gets aggressive, we scruff his neck like his mother would do (not to hurt him, just to have him recall his mother's displeasure) and tell him "NO!". A big plus that we have found is to pet them at the same time and make sure that they have plenty of good things happening when both of them are together so that they associate good things with the new cat.
Your first cat (and ours) is basically having his territory invaded and once he realizes that he is not really being threatened, he should calm down. Also, if they are both spayed, this can cut down on aggressiveness, I believe.
Best wishes! (06/30/2007)
By Nancy
Helping Two Cats Get Along
They might get along eventually, but it's harder to get two females to get along than two males. This is where we get the expression "she's being catty" from. (07/02/2007)

By Beth
Helping Two Cats Get Along
Hello! I agree with the spaying comment; if they aren't spayed already, it can definitely cut down on aggression.

I don't read aggression in the 7 year old from your description though... just high spirits and desire to play.

You might (I know, of all things!) get another, younger cat or kitten to distract the younger one. I would recommend a young neutered male. A male would transition the most smoothly with both females. Then the younger cat would have someone who is equally interested in high jinks.
Another thing that I noticed when I moved with my large feline brood was that in the new house, the territory was new, and no one cat felt it was his/ hers. You could also try moving into a new house together.
(07/02/2007)

By Janet
Helping Two Cats Get Along
Hi Cubangirl,
I just reread your post and realized it is the older one ruling over the younger one. My second suggestion would still apply though!
(07/02/2007)

By Janet
Helping Two Cats Get Along
My daughter taught me this when one of two cats got left out all night. Lots of hissing and growling happened when he came back inside. Take a small hand towel and rub over the more aggressive one's fur and then wipe it on the less dominate one. It works for us! Try it more then once if its not working at first. Can use their hairbrush also. They need that scent to relax. (07/02/2007)

By Momma 2
Helping Two Cats Get Along
It sometimes takes a while but they will learn to co-exist. They may never really like each other and one will be the top cat but they will find their distances from each other and learn to coexist. When one is terrorizing the other, put her in a room by herself so the other one can feel at ease for a while.
Keep telling them to be nice and hiss at the terrorizer, letting her know that you are the boss. It works with my cats. I agree with petting them at the same time and comingling their scents and taking them by the scruff of the neck so they know that you are the Mom.
(07/02/2007)
Helping Two Cats Get Along
Just a thought - how about introducing a cat carpet play tower - it would be brand new and neither cat would own it. (07/02/2007)

By Holly
Helping Two Cats Get Along
Cats are very territorial creatures, when the new cat comes in the house put her in a cat carrier so the 2 can sniff each other and get use to each other do this for about a week and then let the new cat out and hopefully they will get along.. also introduce something new for the cats that neither one had before. Siamese cats are really hard to live with and they are a one person and one home cat.. I hope you will have luck with the 2... Try feeding them together at the same time different bowls..
Good Luck... (07/02/2007)

By Maddy
Helping Two Cats Get Along
All I can say is Good Luck. Our female Tabby cat was 4 years old, when we got a all white male kitten only a few weeks old. We kept the kitten in the carrier for several months, unless we were with it, as the female cat would not accept him at all. They are now 9 years old and 5 years old and the female cat will still hiss at him. He can hold his own with her and they do not fight, but do not like each other. We tried all the suggestions that were written in the other messages and none would work. They even have different litter boxes and food dishes.
Pat in GA (07/02/2007)

By Pat
Helping Two Cats Get Along
Cats are like people they have personalities. Some folk they like and some they would just as easily wish to shoot, LOL. I have three Siamese inside and I can tell you they are loud and sometimes difficult with new cats who come through since we do cat rescue. I believe keeping one (new kitty) crated in a large crate for a week or so works best. That way they can touch noses- size up the competition and adjust - if they are ever going to. 99 times out of a 100 they will make up. Best wishes. (07/03/2007)
By James S. Bow
Helping Two Cats Get Along
To integrate new cats into our home we used baby powder. Yes, baby powder to be sure all the cats smelled the same. It really did help. When they become fiesty we sprinkle them with the baby powder again. Your cats will become friends, eventually. Give the baby powder a go - it could work for you! (07/09/2007)

By SATellite88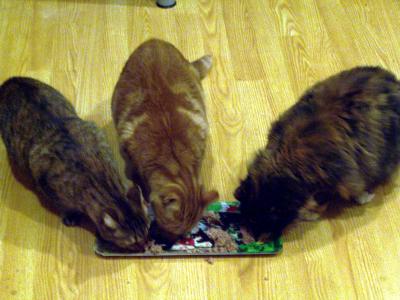 Helping Two Cats Get Along
MY WORD!! I never thought of it in million years! A baby powder?! Using same brush from one cat to another? Huh! That's definitely make sense! I'll try mine. I just got a new nine weeks old female kitten home from the shelter and I already have two six months old female kittens. One of six months old kitten was trying to attack nine weeks old kitten but I caught her in time and she bit me and scratched me but stills I didn't let her go because that nine weeks old kitten is tiny compare to six months old kitten's size! Good grief! (i)(/i) (07/28/2007)

By Three kittens
Helping Two Cats Get Along
We had kitty intervention and it went well. The Siamese was relaxed but the new cat, the Cream Tabby, was tense and growling. It helped though. Now Cream Tabby actually eats in front of Siamese - a breakthrough. After three days of having them in the same room (albeit for only a few minutes each time), without them fussing, we ignored them for a minute this morning and there was a cat fight. My husband broke it up, admonished Siamese, and put her outside. Cream Tabby wants to get out but I won't let her, I think she should go to sleep in here... she was outside all night... We want her to get used to it here. I won't let Siamese in for the rest of the morning.
These cats are driving me nuts... (07/29/2007)

By joy
Helping Two Cats Get Along
I wouldn't advise using baby powder because the cats will have to lick it off eventually. You might get upset at the problematic cat, but you don't want to feed it a potentially toxic substance. (08/01/2007)

By joy