We rescued a dog yesterday from being put down. The dog is a pure breed German Shepard 5 mo female. She was trained to be a K9 dog, but the trainer gave her up because she was not aggressive enough. The dog is very skiddish of everyone. She has only let my husband and son pet her. But as of today, she will not let anyone pet her. We purchased her a dog house and bed late last night because she would not come inside.
It is freezing outside. She has not used the house or the bed yet. She is however eating. Not a great deal but enough. She is not drinking well though. We were hoping to take her to the vet Saturday. But I do not think we'll make it. She will not come near us. I think the trainer must have been really cruel to her or she doesn't trust anyone. Please help!
Belk Family from Charlotte, NC
Answers:
Helping an Abused Dog
Poor baby, she sounds very traumatized. I wonder if she was trained not to take food from anyone but her trainer. Maybe you can talk to one of the trainers or someone who does K9 training so you can try to use what they have already taught her to make friends with her.
Trust needs to be developed. Because dogs are pack animals, they really want to be with other dogs or people. It just takes some time.
Just keep trying to make friends with her and talk to her in a soft voice, telling her this is her home and she is safe.
If she has already let your husband and son touch her, they might be the best to keep trying to approach her.
Good luck with her. I've never dealt with a dog in the same situation as yours but our dog was very shy when we first got her. She's a gregarious family member now, but it took about a month for her to feel at home enough for her to be herself.
Susan from ThriftyFun (12/02/2005)

By ThriftyFun
Helping an Abused Dog
May God bless you richly for your kindness to this dog.
You've made a wonderful start, in that you truly care about her. Susan has given you some great advice, too.
Call your vet, even if you're not taking the dog in for an appointment right away. Ask them to recommend a certified dog trainer, then get in touch with the trainer right away. Even if you can't afford their services, you might get some bits of advice. And sometimes trainers are very reasonable in price. If you live near a university, contact them and ask if they have free or lowcost services of an animal behaviorist. Don' t be ashamed to ask -- you're doing something good.
Also, search "German shepherd rescue" on any Internet search engine. You should find a list of rescue groups that specialize in shepherds. Write to them via e-mail, or join their online groups. These people are very helpful and experienced.
Get some really yummy treats -- not dog food, people food. It will NOT hurt her to eat common-sense kinds of people food, like beef, turkey, chicken, or cheese. Cut it into small bites, and let your husband and son feed her one piece at a time. Drop the pieces on the ground at first, if you have to, but slowly work at getting closer to her. Gradually progress to using these treats as a way of rewarding only her "good" behavior, such looking at a person or coming near.
Keep feeding her as you normally would, but reserve the treats for training rewards. Never challenge or punish her, but always reward the good stuff, no matter how small. And reward it IMMEDIATELY -- within a second or two. Dogs think in very small time segments.
Be sure she has warm straw in her doghouse, and water that is not frozen. Be prepared for a long effort, since she has apparently been through a lot of suffering. Keep at it, and remember, you are saving this girl's life. Please let us know how it goes.
zballoongirl (12/02/2005)

By Patty Zion
Helping an Abused Dog
Thank you both. She is still eating and drank quite a bit this morning. I called and left a message with the vet. She will call back later in the morning. I had taken a towel and wrapped it around the heating pad last night and put it on top of her dog bed. I know she had to of used it, because this morning I found it by her spot she likes at the corner of the fence. She is getting better with being afraid. You can tell by her tail wagging and it not between her legs. She will circle me but never get any closer than about 2 ft from me. Today it is suppose to be warmer. I will continue to sit in the yard in hopes she get closer or even let me pet her. Thank you all.
The Belks (12/03/2005)

By Belks
Helping an Abused Dog
All of the suggestions posted are excellent. I truly believe a trainer will be your best bet with her. Hopefully the trainer will let her know it is okay to live in the house.
I have two rescue dobies, and even though they are indoor dogs, 3 and 4 years old, they love their kennelaire crates. The doors are never closed but they feel secure taking naps and sleeping at night in them.
Please keep us updated on her progress. Bless your hearts for saving her. Rescued companion pets are the best!
Jennifer
Alexandria, Va. (12/03/2005)

Helping an Abused Dog
Get some professional advice from a trainer since she was being trained to be an aggressive work animal. I would be careful. I always thought that when a dog was being trained to be used as a K-9 dog that the dogs weren't abused but treated as a work companion. I would hope that this so-called trainer was reported and not allowed to train in the future.
(12/03/2005)
By it's.only.me
Helping an Abused Dog
Bless you for giving this dog a loving home and not giving up!
If you haven't found a trainer to help you, contact Andy Bunn and /or Trent Parker at Total Canine Training. They have a website, http://www.totalcaninetraining.com so you can check them out and contact them by email if you prefer. If they can't help, they can recommend a fear/aggression specialist.
These guys are worth every penny they charge, and then some. They are very humane, and the training your dog will get is a lot more effective and thorough than, say for example, Pets Mart. (No disrespect intended....the trainers there do good work, but it sounds like your dog needs more help than what Pets Mart can offer)
My husband and I both grew up with dogs and have always had at least one of our own in addition to the occasional foster dog. We never thought we would have to resort to a professional trainer, BUT...
We have 2 rescue dogs, both shepherd mixes. One of them was almost a year old when we adopted him and he had a troubled childhood, being bounced from one foster home to another; no consistency, no rules, etc. He had not been abused, but he was a gigantic bag of nerves, high strung and hard to train. We kennel trained him with Andy and Trent for 2 weeks, and got back a whole new dog! One of them will come to your home and do a couple of private lessons with you as a follow up to the kennel training and they offer really good group classes as well. (which we have continued with both of our dogs)
In addition, they have boarding facilities with an attached dog park that they offer only to training clients. I always hated boarding my dogs before, knowing that they would be locked up in chain link and concrete, but my "boys" love it there; they think they are going to camp!
Anyway, good luck and God Bless! (12/03/2005)

By Sharon Puett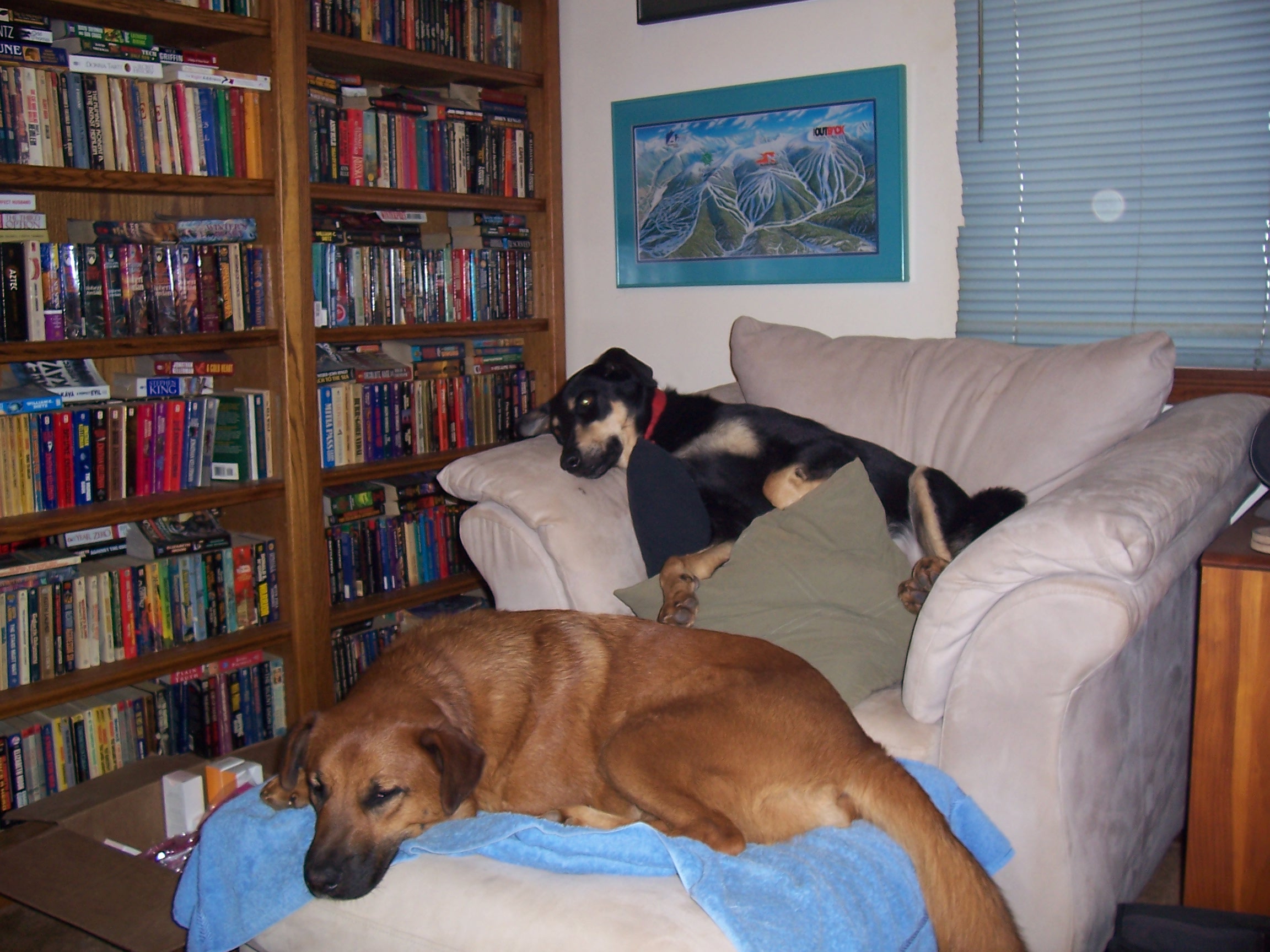 Helping an Abused Dog
All 3 of my kids suggest The prayer of St Francis[he was an animal lover].
Love and patience are tried and true but doesn't work overnight.
She's wagging?-Good sign!
(12/03/2005)

By rosemarie
Helping an Abused Dog
Major kudos to you for rescuing her. I've had more than 1 abused dog I've rescued. It just takes time like everyone else is saying. But you will have a totally different dog in time. It's such a rewarding experience to rescue & rehabilitate a dog so they become a happy well adjusted dog. And with my experience, it's rare that a dog doesn't adjust. I've had very emotionally disturbed dogs that became the most laid back dogs & you would never believe they were abused. All the suggestions are good. Treats, praise, & more treats. Since it's cold you must get her inside. Even if it means tricking her. It's for her own good. If it takes several people then ok. Just so everyone is upbeat & heaping praise. Once she's inside it will also be easier to get her to adjust to having lots of people love her. (12/03/2005)

By Vicki
Helping an Abused Dog
I rescued a puppy last summer. She, too displayed the very behaviors you have described. She laid on the back porch for a month, did not play, bark, but would take off as soon as I exited the house. She seemed terrified of me. I would talk to her gently and give her plenty of fresh water and food and snacks. When it became bitterly cold a few weeks ago I found that she refused to go into a dog house nor could I coax her to come into the house...she would just bark and whine. So I put two big fluffy blankets on the porch for her. She took both of them and placed them in the yard where she wanted them and seems to be happy. I tried to pick them up to shake them out and wash them and she ran quickly to get on them so that I would not take them. If she thinks I am going to get her 'blankies' she races to get on them. Be patient. I believe your new family member will come around. Blessings to you! (12/03/2005)

By 1dog4felines
Helping an Abused Dog
I can definitely understand what you are going thru. Now that the dog is warming up to you, one thing I found was that when you are both outside, lay down, yes, just lay down, I would almost bet she will come up to you to see what you are doing. Keep doing this until she lays down with you. Keep one arm out, palm side down, let her sniff you, lick you, just about everything, when she lays down with you gently put your hand or arm on her paw, don't kuddle her quite yet, let her make the first move and see what happens. Please keep us informed of how it turns out. Good Luck (12/03/2005)

By Stacey L.
Helping an Abused Dog
I wanted to let everyone know, we contacted a trainer that will come to our home Monday. I found out tonight she likes KFC. She would not take it from my hand, so I gently tossed it towards her. She ran away of course, but soon discovered what it was. We had torn all the meat off and discarded the bones. She loved it and since then, she has been coming up to the sliding glass door. Just looking in. If we approach the door she stays put. But when we open it she'll dart off. I believe we are making progress. We spent a lot of time outside with her today just talking to her and sitting still. We'll do the same everyday until she trusts us enough. My son even laid down and she approached him, but did not make any contact. We will try thr KFC again Sunday. I appreciate all the advice!!!
The Belks (12/03/2005)

By Belks
Helping an Abused Dog
Thank you for the update! She is a smart girl and can be reprogrammed to be a cherished member of your family!
Please be careful with chicken bones. Take the meat off first! If they cut her throat, you will not be able to take her to the vet. I would never give mine anything but a thick beef bone (which I bake slowly in the oven with garlic and they love them).
Thanks again for the update!
Jennifer
Alexandria, Va
(12/04/2005)

Helping an Abused Dog
I'm always glad to hear that someone has rescued a doggie in need of a home. Just be gentle to her and give her lots of love. Hang in there. (12/05/2005)

By Cassie
Helping an Abused Dog
My friend just took in a small dog who was being abused by a larger dog in the family. He was all cut up from attacks from this dog. The dog slept on the bed with him but when the alarm went off he urinated all over the bed. He thinks a shock collar will help, I'm against that. I think it is cruel and how could that help anyway? The dog is scared. What is your suggestion?
(b)Editor's Note: (/b) Something like that would just terrify the poor little guy, he needs some time to heal, lots of love and reassurance. It will take him a week or two to realize that the other dog isn't there and he is safe. He definitely should be seen by a vet as soon as possible to make sure he doesn't have any infections from the attacks. (08/24/2006)

By karlie
Helping an Abused Dog
We adopted a mixed Dachshund and Chihuahua 4 mo. old two weeks ago. She is afraid of everything and everyone. I laid down on the floor, and she eventually came and laid beside me. As the days pass, she is showing more love toward me...tho still very frightened. She will not come to me when I call her and continues to wet in the house, even having been taken out every 30 minutes. She does make it through the night in her crate tho. All suggestions will be appreciated. Thanks so much! (05/26/2007)

By Grace from SC
Helping an Abused Dog
Last week the cable man came to our house and we have a guard dog so we took our guard dog for a small walk and we walked upon a small abused puppy. when he saw us he slowly got up and walked toward us. The dog seem a little dead by the way he was walking you can tell he was not that close from death. His old owner was cruel. The dog had a hair ribbon and a fishing line tied around his neck for a leash. My daughter took him home and bath him and gave him some food and water and we put him in the glass house so he can be comfy. In the glass house we were sure he would like it there , it had air conditioning and everything. My daughter makes sure that she goes out side and plays with him everyday. But he seems shy and he doesn't come to anyone but her. She comes to me and says ma i think something is wrong with the puppy. I said why, she said because he does not look happy or seem happy, but he still seems sad or sick. My daughter said well since he was mistreated with her other owner he might think that were here to mistreat him too. How can we help him trust us.
PLEASE HELP US
(b)Editor's Note:(/b) Please take him to the vet. He may be sick, hurt or be traumatized but in either case, he should be checked out. It does take a while for dogs to trust after they have been abused or abandoned. Just take your time and let him come to you. Treats always help. Also pay very close attention to his reactions to your body language, if you raise your hands, clap your hands, etc. and see if he reacts like he is frightened. Just give it time but also, please take him to the vet. (07/21/2007)

By Briona R
Helping an Abused Dog
Please take that poor baby to the Vet immediately.
I cannot imagine being sick and injured and being left untreated.
What is a "guard dog"?
Jennifer
Northern Virginia (07/21/2007)

Helping an Abused Dog
I have a question for the audience. I have a neighbor who has a beautiful dog, looks to be part terrier and maybe part sheltie. Anyway, these neighbors had two dogs for a time but one died suddenly. I personally question the circumstances of the other dogs death, but being that I've lost control on an earlier occasion with these people and their treatment of two previous dogs they had, which suddenly disappeared, I can not confront them for fear of being arrested. My concern is not really the dead dog because as they say let dead dogs lay. No pun intended, but rather the current and surviving dog. You cannot see any overt abuse on this dog. However, it is kept in a garage in a kennel, size I have not been able to determine.
When it is let out it is put into a fenced area that is certainly large enough but they leave the dog no water, no food and no shelter sometime for hours or even an entire day in either sweltering 90 degree or higher or freezing temps. When it is a nice day and they leave the dog out they totally ignore the dog. The poor thing is just starved for attention. When you go near it when it's in the fenced area it barks viciously until you get close at which time he wags his little tail off and tries to get you to pet it. He just whines and barks sometime for hours when the kids of the house are out as he watches them hoping for some attention the whole time. But they just ignore it as if it weren't even alive.
I don't know what to do and my heart breaks for this poor dog. Does anyone have any suggestions. I've called the Sheriffs office but they say I have to call the Humane Society. When I call the Human Society they tell me they do not service the area I live in because we are in the county. I would love to take matters into my own hands and take the dog, but I don't want to end up in jail for assault or theft. Any suggestions would be appreciated. I live in El Paso County, Colorado.
Most of the neighbors don't understand why they even have dogs or a dog now because of the way they ignore the poor animal. However, I am the only one that has had the kahonnas to confront them, although I did get rather aggressive and I guess scared the hell out of them at least enough for them to have called the sheriff on me for assault. No I didn't hit or make contact with any of the family. However I did kind of threaten the husband. My bad.... Anyway, any help will be appreciated.
Thanks in advance for any help.
Doug S
Falcon, Colorado (07/28/2007)

By Douglas
Helping an Abused Dog
I am in the same position. I purchased a K-9 protection dog about 8 months ago. He has been acting like hes been abused but I didn't know for sure. I had 3 trainers and 3 vets look at him and so far all 6 and me agree he was severely abused.
We have just found scars from whips under his fur and the most recent trainer has verified my dog grow up in a crate most likely 23 hours a day because his paws have not grown correctly. I don't know what to do but I want to make it known to PETA or the attorney generals office or whomever high up about the "breeder" I bought him from as well as stop further abuse to any more dogs of his or anyone else's from this abuse.
My dog was definitely abused and I'm not sure what to do from here or who to talk to to investigate the "breeder". If you have any information on where i may start, please let me know. I can be contacted at mcar659056 AT aol.com or 908.420.0972.
I unfortunately cant provide any advice that hasn't already been given for your current situation but I do congratulate you on efforts in helping an abused animal. Thank you! Without people like you, God only knows what more harm could have been done. Thank you again! If you do or anyone has any information on how I might be able to protect the current dogs in this breeders care as well as others PLEASE let me know where I can start. Thank you, Mike (10/21/2007)

By Michael C
Helping an Abused Dog
I rescued a 16 mo old Golden from the local rescue group he had been turned in by his owner because the dog he said is stupid and can't learn. I have had him 10 weeks, he is house broken, loves to play fetch etc and sleeps in my bed and adores my sons however, he has yet to bark and is terrified of everything: ie sudden movements, things in your hands like, remote control of the tv, fly swatters, etc. He doesn't come when called, eats like somebody is going to sneak up behind him, and wack him.
He is skinny but putting on weight slowly. My question is why doesn't he bark? My female golden whom he seems to adore barks all the time and this poor baby walks around with a worried look on his face, I'm doing the best I can he's an inside dog of course being a Golden sticks close to me and does fine left home inside with his new sister but will he ever lose this fear he has? Any suggestions? He really is a gentle soul. (11/25/2007)

By Helen