This bread will fill your house with a fresh, wonderful aroma as it bakes! The recipe is time-tested and versatile. You can make fluffy loaves, dinner rolls, baguettes, twists, focaccia, and more!
Total Time: 3 hours
Yield: at least 6 small loaves or a dozen rolls
Source: Adapted from Herb and Onion Bread--The Vegetarian Epicure, by Anna Thomas (1972)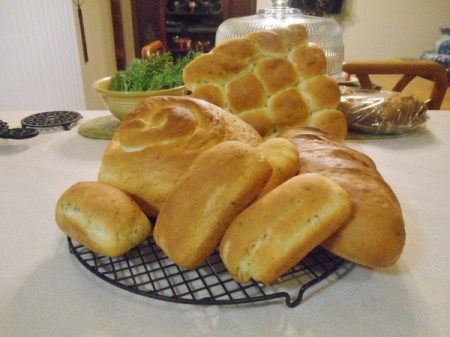 Ingredients:
1 cup milk
3 Tbsp sugar or honey
2 tsp salt
2 Tbsp olive oil
2 Packages yeast
1 cup warm water
5-6 and 1/2 cup unbleached all-purpose flour
1 tsp crushed, dried thyme
2 Tbsp fresh rosemary
Steps:
In a large bowl, dissolve the yeast in warm water. Whisk lightly. Note: The following images depict the recipe doubled.
Scald the milk and whisk in the sugar, salt, and olive oil; cool this mixture while the yeast rises. Place the inside of your wrist against the side of the bowl. If the bowl feels warm, almost like you want to hug it, the milk is cool enough, or almost lukewarm.
Once it has cooled, add the yeast to the milk mixture and whisk well.
Add 4 cups of the flour one cup at a time, beating well after each addition until the batter becomes thick and smooth.
Spread the last cup of flour evenly over a smooth, flat surface where you will knead the dough. Next, put the batter straight onto the countertop, scraping any remaining dough from the sides of the bowl.
Gather the wet dough into a floury lump and knead lightly, adding more flour as you go. Work the batter into a pillow-like round of dough. Once you start to reach this stage, add just enough flour to prevent the dough from sticking to the countertop.
Knead for about ten minutes once the batter comes together as dough. Stop kneading when small bubbles start to spread across the dough's surface as you work and it feels smooth and elastic. Alternatively poke a hole into the dough. If it poofs back, the dough is ready to rise.
Set dough aside. Coat the sides of a large bowl with about 1 tbsp. oil. Turn the dough into the bowl, making sure the oil also coats the entire surface (this helps lock in moisture as the bread rises). Lightly place plastic wrap or a tea towel across the top of the bowl. Set dough in a warm place, away from direct sunlight, to rise for about 45 minutes. It should double in bulk.
Once the dough has risen, punch it down and form it back into a round.
Divide the dough in half and place onto a countertop dusted with flour.
Flatten one half into a rough circle, like biscuit or pizza dough. Spread the herbs across the center and press them down into the dough. Fold the dough over and knead for a few minutes to thoroughly incorporate the herbs. Repeat (if desired) with the other half.
Shape as desired. You can make baguettes, mini loaves, twists, rolls, and more! We lightly greased 6 mini loaf pans with shortening and had extra herb dough to form into twists. These went onto a lightly greased cookie sheet.
Let shaped loaves, rolls, etc., rise for 30-45 minutes, or until doubled in bulk. Bake in 375 degree F. oven for about an hour. Place on a rack to cool and spread a little shortening or butter over the loaves to color and soften their crust.
Enjoy!
Note: We doubled this recipe, but not its herb proportions. This is because we chose to make about half of it plain, like simple French bread, and half of it savory. If you want to make all the dough savory, feel free to add the herbs to the liquid ingredients (step 2) before stirring in the flour.
Someone gave me a loaf of fancy deli bread. I didn't like it, but I ate it rather than waste it. To me, it really did have a weird taste.
I kept trying to decide what food would be complimented by this bread. That was a toughy. If anything at all, the bread might be good for making croutons for tomato soup.
There was no descriptive label on the packaging. There was a list of ingredients. Included in that list were oregano, basil, rosemary, parsley flakes, and garlic powder.
Herbs are not my forte. I do know though, that it was either the basil or the rosemary (or a combination of both) that made the bread taste the way moldy dirt smells. Which was it? I'm not familiar with either of these herbs.
Answers
September 20, 2019
0

found this helpful
When I first read your post, I was expecting the ingredient to be cilantro, which tastes soap (to me). I know this for a fact as I had my mouth washed out with soap when I was a very mouthy child many years ago and said a word my father found quite objectionable. To this day I will not say that word.
My best guess it is the bad flavor is Rosemary, which is not as pretty or tasty as it sounds.
If you hate it, don't suffer through it. Feed it to the birds.
As frugal as I am, life is too short for bad bread (or bad chocolate).
Post back what you decide.
September 20, 2019
0

found this helpful
I feel that it is the rosemary! It is the strongest of the other ingredients. Also has a stronger scent next to the others!
September 20, 2019
0

found this helpful
Rosemary is probably the herb you dont like. The bread may also have been sourdough, which some people dont like.
September 20, 2019
0

found this helpful
You may well be right. I've crushed rosemary leaves with my fingers at the garden center and smelled them. It is hard to imagine anyone putting that in food.
Scents and tastes are so subjective. I mentioned the bread tasted like moldy dirt smells. I detest the taste of potato skins because they taste like dirt, yet mushrooms have an earthy taste and I love them.
September 20, 2019
0

found this helpful
I hear you! It all is so subjective! Maybe the birds will like the bread!
September 21, 2019
0

found this helpful
Wow, that's tough. I love all those herbs and don't think any of them taste like moldy dirt. But then I like cilantro too so everyone's tastes are different. :)
Rosemary is a woody, earthy herb. It's reminiscent of pine or fir trees. So that could be the one. It's always in the poultry herb bundle I get for Thanksgiving. I have a good recipe for Rosemary Lemon Chicken that I should post if I haven't already.
Basil is very fresh and savory, with almost a licorice flavor. It is what they make pesto out of and I think it is one of the ingredients in Italian seasoning. I love it fresh the best and it goes great with tomatoes.
It might be that the dried herb blend that they used was old or musty and gave the bread that odd flavor. And you might prefer the fresh herbs to dried. I usually use both basil and rosemary fresh.
Good luck with your culinary mystery. :)
September 21, 2019
0

found this helpful
That bread has long been gone. This post has been in Drafts for months. Thanks for your concern, though.
I'm surprised no one mentioned my touch of synesthesia. I said the herb(s) tasted the way moldy dirt smells'. (And certain chocolates taste the way a wet dog smells). People ask, 'How can you do that'?
I'll settle for just the touch. I don't want to smell sounds or hear colors...and I surely don't want to feel physical pain every time I see a certain shape.
September 22, 2019
0

found this helpful
The herbs in your bread are oregano, basil, rosemary, parsley flakes, and garlic powder. Normally oregano and basil don't hae a bad tste at all and parsley is not an issue. Garlic just adds a flavor to the bread that some people like or do not like. My best guess is the rosemary in this bread is what is making it taste a bit strange to you.
Read More Answers