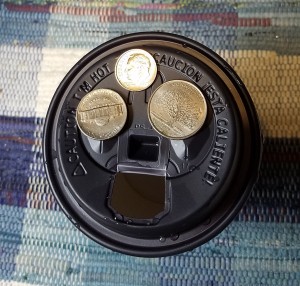 I rarely buy coffee out but when I do, I have these cups to recycle. One day, I was throwing my change in the console, and this old cup was in there from the day before.
I took it in and washed it, then thought "Hmmm I know a dime and nickle will fit through the lid, but what about a quarter"? While not the perfect size, it still does fit. Now I have a secure place for my coins and no one ever sees them.
Speaking from someone who had an ashtray stolen from my car, yeah, you can't be too careful these days.
Maybe this will help others to know their change is safe. N-JOY!