With the recent recalls of cat treats, many people are looking for recipes to make their own. Do you have any recipes to share?
Answers:
Homemade Cat Treats
There is an excellent whole foods recipe book called "Make Your Own Convenience Foods" by Don and Joan German. This recipe is actually both a treat and a base for full meals for both cats and dogs.
In a blender put:
3 c. water,
1/2 c. corn oil,
2 eggs,
2 tbsp cod liver oil,
1 100 IU capsule of Vitamin E,
1 low-potency multivitamin from your health food store containing at least copper,zinc,iron,magnesium and manganese(break open the capsule and add just the powder, discarding the gelatin capsule).
Blend all this in the blender until thoroughly mixed.
In a bowl, put:
2 c. whole wheat flour,
1/4 c. brewer's yeast,
1 c. cornmeal,
3/4 c. nonfat instant dry milk,
1/2 c. bran,
2 tbsp granular kelp,
1 tbsp double-caking baking powder
1/4 c. bone meal(VITAL, DO NOT SKIP)
After mixing the dry ingredients together, pour into the blended liquid ingredients all at once. Mix together thoroughly, pour into TWO greased layer cake pans and bake in a preheated 400*f oven. When done, about 25 minutes,Cool on a rack as with any other cake.
Directions For Feeding:
For Dogs:
For a 20 lb dog, cut one layer into 6 parts, each part is one serving of 200 calories.To make a complete and nutritionally sound meal, crumble and mix with any ONE of the following:
3-4 oz ground meat cooked in a little water
2 scrambled eggs
2 oz liver, chopped up and cooked with a little water
To make an all in one food, cook 2-1/4 pounds of ground meat and combine with cake ingredients and bake in FOUR layer cake pans. Just crumble and serve TWICE the quantity of plain Dog and Cat Cake
For Cats: For all in one meal, follow directions above but substitute your cat's favorites, like ground liver, by baking right in cake, you get a semi-dry food the cat can nibble on all day, which is a cat's favored method of eating. Or, start with 1/6th part of a layer of basic cake mixed with 1/2 a can of tuna or 3-4 oz meaty table scraps or other meat.Since amounts eaten vary by cat, you will have to experiment to find the right amount to set out each day. (04/02/2007)
By thriftmeg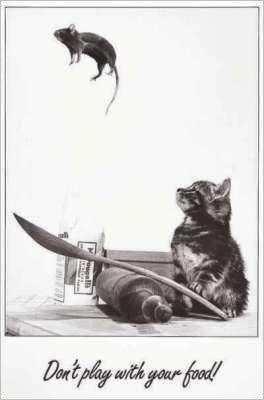 Cat Biscuits-Chicken Crunchies
Ingredients:
1 1/2 cups whole wheat flour
1 1/2 cups rye flour
1 1/2 cups brown rice flour
1 tsp dried kelp or alfalfa
4 tsps vegetable oil
1 1/2 cups chicken or beef broth
1 lb ground (minced) chicken
1 to 2 Tbsps brewers yeast

Directions:

Preheat oven to 350F


In large bowl, combine the first 6 dry ingredients. Slowly add oil, broth and chicken and mix well.


On a lightly floured surface, roll the dough to a thickness of 1/8 inch, then place it on a greases cookie sheet. Bake until golden brown.


Cool, then break into bite sized pieces. Place pieces in a bag with brewers yeast and shake to coat them. Store leftovers in airtight container in fridge.


Makes 2 to 3 dozen pieces.

Mackerel Cat Munchies:

1/2 cup canned mackerel (drained)
1 cup whole grain breadcrumbs
1 tsp vegetable oil
1 egg, beaten
1/2 tsp brewers yeast (optional)

Directions:

Preheat oven to 350F


In a medium bowl, mash mackerel with a fork into tiny pieces. Combine with remaining ingredients and mix well. Drop mixture by 1/4 teaspoonful onto a greased cookie sheet.


Bake for 8 minutes.


Cool to room temperature and store in an airtight container in fridge. (04/03/2007)


By Julie Carey

Homemade Cat Treats

I want to make cat food for my kitties, but the recipes call for large amounts of grain products. Why is this? I have never heard of a pack of wild dogs and feral cats attacking a wheat farm! (04/10/2007)


By Sam Esqueda

Homemade Cat Treats

Someone posted about grain in cat or dog treats.
While we consider them to be natural meat eaters, think about it. When animals are eating other animals, they are also eating the contents of their preys stomachs and intestines, which are often grains and veggies. So, they do ingest grains or veggies naturally. (05/01/2007)


By Snappy