Homemade Cat Treat Recipes
Solutions
Share on ThriftyFunThis guide contains the following solutions. Have something to add? Please share your solution!
1 cup tuna in oil, dash of parsley, some wheat germ, and corn flake crumbs. I just "eyeball" the amount so the tuna sticks together in small meatballs.
Bake at 350 degrees F for 15-20 minutes, then at 200 degrees for 5 minutes. The cat bats around the meatballs awhile before nibbling on it, but does not make a mess.
Source: Good Housekeeping Magazine
By gayle from Rochester, NY
December 9, 2004
2

found this helpful
Tasty tuna puff treats for cats.
Ingredients:
1 1/2 cups whole wheat flour
1 cup all purpose flour
1 package unflavored gelatin
1 package dry yeast (about 2 1/2 tsp.)
1 cup powdered dry milk
1/4 cup very warm water
1/4 cup corn oil
1 egg
1 (6 oz.) can tuna cat food
1/4 cup water
Directions:
Preheat oven to 300 degrees F. Dissolve yeast in warm water. Mix dry ingredients in large bowl. Add yeast, oil, egg, cat food, and water. Mix well (dough will be very stiff). Drop 1/2 teaspoon onto ungreased cookie sheet. Bake 25 minutes. Store in refrigerator. Yield 13 dozen.
By Kathy
December 9, 2004
1

found this helpful
I recently posted some recipes for dog treats - possible Christmas gifts for man's best friend. If your best friend happens to be a feline, however, you may want to make him or her the following:
Ingredients:
3 cups whole wheat flour
2 cups soy flour
1 cup wheat germ
1 cup cornmeal
1 cup nonfat dry milk
1/2 cup brewer's yeast
1 (15 ounce) can mackerel
5 Tablespoons vegetable oil
1 Tablespoon cod liver oil
2 cups of water (or as needed)
Directions:
Preheat oven to 350 degrees F.
Mix all the dry ingredients in a large bowl. In another bowl, mash the mackerel into small pieces. Mix in the oil and water. Add the mackerel mixture to the dry ingredients and mix thoroughly. The dough is tough, so use your hands. Roll dough out to about 1/4 inch thickness and cut into 1/4 inch bits, using a knife or pizza cutter. Mound the bits onto greased cookie sheets and bake for 25 minutes. During baking, occasionally toss the bits with two wooden spoons, so they brown evenly. Turn the heat off and allow the treats to cool thoroughly before removing and storing in an airtight container in the refrigerator. This recipe freezes very well for longer storage.
By Kathy
December 9, 2004
1

found this helpful
Ingredients:
1/2 cup whole wheat flour
1/2 cup nonfat, dry, powdered milk
1/2 can tuna, in oil OR 1/2 cup cooked chicken, chopped into small pieces
1 tablespoon vegetable oil OR cod liver oil
1 egg, beaten
1/4 cup water
catnip (Optional)
Directions:
Preheat oven to 350 degrees F and grease cookie sheets with cooking spray.
In large bowl, mash the tuna (or chicken) into smaller pieces. Then add flour and milk. Mix well.
After all is mixed, pour in water and oil. Mix well again.
Next beat egg in separate dish until egg gets a foamy texture. Add to mix. Mix well.
The dough mix will be sticky, so don't worry. Using your fingers, shape dough into small bite size balls about the size of a marble. Put balls on greased cookie sheets. Flatten balls with hand. Bake for 10 minutes.
Remove treats from oven; wait five minutes and turn treats over so other side will cook. Bake 10 more minutes or until golden brown in color.
Place treats on cookie rack to cool. Cool for 15 minutes.
NEVER give treats to your pet right after cooking. You can add the catnip in the recipe or sprinkle on top of treats. They like it either way. Store in air tight container in refrigerator or cool dry place. Makes approximately 60 treats.
By Kathy
December 9, 2004
1

found this helpful
Fishy treats for your furry little friend.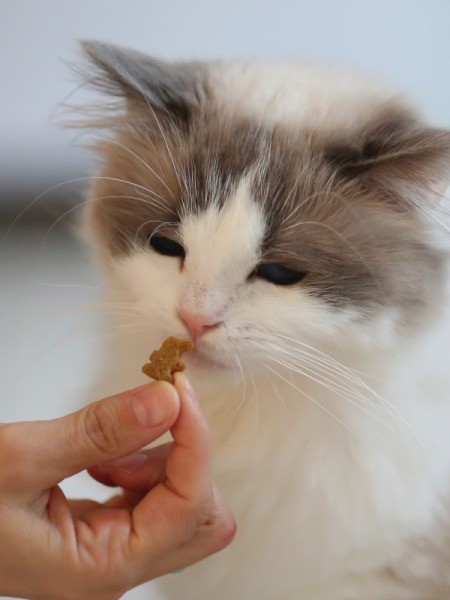 Read More...
December 9, 2004
0

found this helpful
Crunchy treats for your cat.
Read More...
Questions
Ask a QuestionHere are the questions asked by community members. Read on to see the answers provided by the ThriftyFun community or ask a new question.
Does anyone have a recipe for cat treats? I have to give one of my cats a pill every day and the purchased treats for this purpose are expensive.
By nancy mckendrick from east Detroit, MI
Answers
September 18, 2009
0

found this helpful
September 18, 2009
0

found this helpful
I use canned tuna; usually 5 cans for $4.00 and a can goes a long way. Make sure the pill soaks up some of the juice, so it tastes and smells like tuna. Usually half a teaspoon at a time is enough.
September 21, 2009
0

found this helpful
When I have to give one of my cats a pill, I grind the pill up and put it in canned food. At one time I had to do this so often I actually bought a mortar and pestle, but you can to it with the bottom of a glass. I do have a recipe for cat treats at home, but they weren't that crazy about it. If you still want it, let me know and I will look it up.
March 26, 2010
0

found this helpful
I got tired of buying Temptations cat treats at $3 each. I decided to try to trick my cats by saving the empty bags and fill them up with The Goodlife Recipe cat food. Cats love it, but not for a steady diet. Feed them healthier cat food and a treat once or twice per day.
I bought a 16 lbs bag of this stuff for $14, and got a 5 gal bucket with a lid. This stuff will stay fresh for a long time. By doing this, I am spending about 2-3 per month instead of $3 per day or two for a bag of temptations for my 6 cats. Problem solved!
Answer

this Question

...
Does anyone have a recipe to make cat treats? I have 4 cats and would love to make them some homemade treats. Thank you.
By Connie P. from Vandalia, OH
Answers
May 12, 2010
0

found this helpful
This may not be what you had in mind, but I grow catnip and wheat grass for my cat and he LOVES both. The cheapest way is to buy seeds at a nursery or walmart and grow your own, otherwise you'll pay $3-5 per plant. Seeds are usually $1-2 and you can grow a lot! Give it a try.
Answer

this Question

...
Related Content