Homemade Chili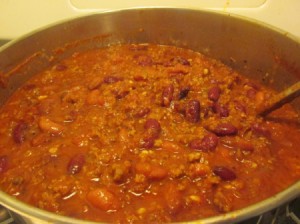 What's football season without chili? In my house of three sons, 1 son in-law, and a husband, and whoever they tag along with, I find keeping them chewing keeps the noise to a minimum. So I keep on cooking during football. It also saves on the furniture and my hardwood floors... how? They like to pound their fist on the arm of my couch and chairs, and stamp their feet on the floors. Did you say *anger management?* No, I did! :)
Ingredients:
2 Tbsp olive oil
2 medium or 1 large onion, minced*
4 stalks celery, minced
1 large green pepper, minced
1 red pepper, minced
6 large cloves garlic, minced
3 lb lean ground beef
2 lb sweet or hot Italian sausages, remove casings
2 cans (14 oz) stewed tomatoes, Blended
2 cans (28 oz) crushed tomatoes with basil
water
1 can refried beans with green chilies (helps thicken the texture and extra flavor)
1/2 tsp each salt, black pepper, Italian seasoning, basil, thyme, parsley, chili powder, cumin, garlic powder, onion powder, season salt or Old Bay Seasoning
2 bay leaf
4 tsp sugar
6 cans dark red kidney beans, drained and rinsed
*I used a food processor to mince all the vegetables.
Steps:
Using a large soup pot on medium, add the olive oil first and then all the minced vegetables. Saute these until golden.
Add the ground beef and loose sausage meat, stirring and breaking down all the meat until it is crumbled. Cook and mix well with the vegetables. Drain off any excess fat.
After blending the stewed tomatoes, add them to the pot. Then add the large cans of crushed tomatoes. Add one large can of water and one small can of water, by rinsing these cans with hot water.
Stirring while this comes to a boil. Add all your seasonings. Let this boil, then turn down to a medium and cover. Simmer for about three hours, stirring frequently. If it starts to stick, turn down a bit more. If it seems too thick, add a 1/2 cup of water (each time it gets thick).
Then add the cans of drained beans. Stir them in. Bring to a boil and then turn down to a simmer. I put this on a lowest simmer all night long. If you don't have an option of a simmer plate on your stove, you can simmer a pot overnight in a warm oven. At 225 degrees F. It acts like a crock pot.
I serve my chili over a bed of white long grain rice, or on a bed of tortilla chips and topped with chips. You can also top your chili with shredded Mexican cheese.

Add your voice! Click below to comment. ThriftyFun is powered by your wisdom!
Related Content