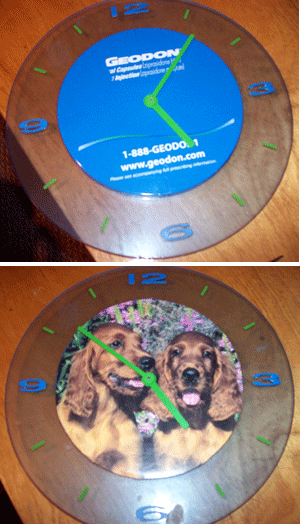 A Dog Gone Good Time (Or how to redo a Doctor's Clock) We have all seen them a million times hanging in the doctor's office, some pharmaceutical company wanting to promote their latest drug gave our doctor a free clock. Now our wonderful doctor, not wanting to be rude, hangs it in the waiting room for a couple of months until some lawyer files a suit against that drug and the clock ends up in the thrift store. Lucky us because the thrift store will sell us that clock really cheap because it has advertising on it.
I paid a dollar for the one in the picture. I loved the blue and green together and thought I need a new clock for my office. But I am not a big fan of advertising, unless it is something cute like the Campbell's kids, so I thought, "Why not try and redo it?" I found taking it apart was a snap (no harder than the kits you buy at Walmart or Michael's) and I had a calendar from last year with puppies on it that I just loved so I thought why not combine the two?
After I used the old calendar picture I got to thinking that I could have printed out any number of my pictures of my grandsons or family photos to use for this project. I also thought the an old piece of lace or embroidery or a piece of an old quilt could have also been used with a minimum of sewing. Just know what ever you use, it needs to be thin so that you still have room for the hands to move. So here are my instructions for redoing a old clock.
Time to complete: A half an hour
Materials
One old doctor's promotional clock
One old calendar picture
Some spray glue
Painters tape
Measuring tape
Instructions
First I took apart the clock and took the working clock box off the back. Then I measured the raised circle in the middle. I made a cardboard template for it and then cut out my picture from the old calendar page. I masked off the outside ring with painter's tape and then sprayed on the spray glue and affixed the picture to the center. I then put the clock back together.
Now I have a great clock for my office and it only cost me a dollar and a half hour of my time.
Happy Recycling!