The pet food recalls are making me freak out! Does anyone know how to make home made dog food? I LOVE my Dog, and am going crazy as to what to feed him. He is 2 years old, and is a small dog. Any help would be deeply appreciated.
Thank you,
Kevin from Big Bear City, CA

With the recent pet feed recall, a lot of pet owners are nervous about giving store bought food to their dogs. Some readers have expressed an interest in recipes for making their own pet food. Do you have any homemade dog food recipes to share? Feel free to post them below.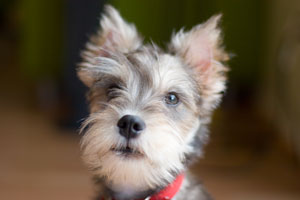 Answers: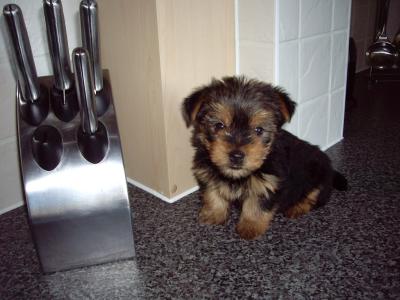 Homemade Dog Food Recipes
I have a beautiful 3 month old yorkie and it makes me sick to give her store bought puppy food, although it is supposed to be the best. I prefer to give her food that I have made myself. I am at this moment baking turkey breast, which I am going to chop up and add cooked brown rice and carrots. Now what kind of supplement do I give her and do I have to give her any more store bought food anymore or will she do really well on the homemade? I'm not sure how much to give her, but the dry food is half cup daily. What do you suggest? I only want the best for "Willow".
(11/04/2007)
By angela
Homemade Dog Food Recipes
There are tons of recipes at http://www.homemadehealthypetfood.com
(11/25/2007)

By Barb
Homemade Dog Food Recipes
My brother feeds his dog garlic. He gives the dog 4 cloves of garlic a day. This is fresh garlic and can be put in food you make. He also gives the dog some olive oil. Apparently olive oil is good for dogs. His dog is extremely healthy. He cooks chicken and cuts it up and cooks liver and also hamburger. He puts onions in it and dogs also like carrots and corn is used in there food. He also puts brown bread broken up into the mixture. You can also use cooked macaroni. He has also told me that oatmeal is good for the dog, I believe it is cooked and he says cinnamon is good for the dog as well, but that would go better with oatmeal. His dog likes alot of vegetables. The vet has never seen such a healthy dog and the dog is older and acts like a pup. The garlic is a big part of keeping the dog healthy and young. (11/29/2007)
By Betty
Homemade Dog Food Recipes
NEVER EVER FEED ONIONS OR GARLIC TO A DOG... THEY ARE DEADLY! You might as well feed them a hershey bar while your at it. Onions and garlic contain the toxic ingredient thiosulphate. Pets affected by onion toxicity will develop haemolytic anaemia, where the pet's red blood cells burst while circulating in its body. All forms of onion can be a problem including dehydrated onions, raw onions, cooked onions and table scraps containing cooked onions and/or garlic

There are many items you can not feed a dog - Chocolate, Onions, Garlic, Macadamian Nuts, Grapes, or Raisins. (12/07/2007)

By Jo
Homemade Dog Food Recipes
Most of these sound fantastic! However, if you make such large quantities, how would you store the unused portions and how long would they last? Most of these recipes sound like they would make A LOT! Do you warm it up first if it's kept in the freezer or bring it to room temp? I work full time and would need further detail on storage. I have a three year old Westie and a 9 1/2 year old Sheltie. Do you just cold turkey them from the store bought food and start them on the home made? Does it tear up their tummies to just change their diet so drastically? I too have given homemade food serious thought since the recall started. My babies are my babies ! I don't want to lose them! Thank you - lm (12/21/2007)
By Lisa-Marie
Homemade Dog Food Recipes
I feed my dogs Spots Stew recipe... chicken, lots of vegs, oats, etc. I combine all to make the stew. Then I refrigerate. After refrigeration, the chicken fat goes to the top, and I remove it. Should I discard it or be using it in the stew?

Editor's Note I'd remove the extra fat. Leaving a little is okay but most of it should be removed. (12/24/2007)

By Kris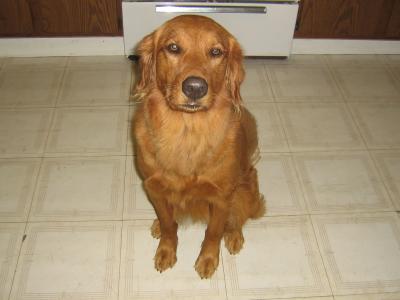 Homemade Dog Food Recipes
My Jack Russell Terrier has had 2 surgeries to remove calcium oxylate stones from his bladder. When he got the second stone which required the second surgery, he had already been on the Hill Science U/D formula for 4 years.

On researching online, I came across the "Animal Advocate", William Cusick, who has many yrs experience researching dogfood and is an author on books regarding what foods certain breeds should be eating. He came up with a recipe specifically for my dog. I have been making this recipe for my Jack Russell and he has been on this for 4 years. His coat has never looked better and so far he has been stone free. I would recommend contacting Bill Cusick.
I hope this will be of help to you!
(01/13/2008)

By Pam
Homemade Dog Food Recipes
hello everyone I have just had a book come out called
Paws Above The Rest Homemade catfood and dogfood recipes. its is available on amazon.com barnesandnoble.com borders.com and also available in the uk and can also be found using the book title on google (01/18/2008)

By bayviewauthor4jc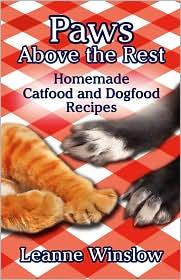 Homemade Dog Food Recipes for renal problems
Hello my 13 yr Scottie "Heather" has been diagnosed with advanced renal failure. I had taken her in for a teeth cleaning and to get a few teeth pulled that were giving her trouble, although she hasn't shown any of the symptoms associated with kidney failure the blood work shows differently.

Heather has always been an enthusiastic eater but the vet gave me some canned dog food specifically for renal problems. Heather doesn't like it she looks at it and walks away. I'm looking for some homemade recipes for older dogs with kidney problems that she will enjoy. It's important to me that her last few years or however long she has is filled with enjoyable food, won't speed up the progression of the disease and food that's easy on her teeth. As they won't put her out to pulled them anymore because of the kidney failure. Any help would be appreciated (01/27/2008)
By Cori
Homemade Dog Food Recipes
I need some dog food recipes. I just heard about the dog food that KILLS. Please tell me some recipes for my little doggie. (02/16/2008)

By MAGGIE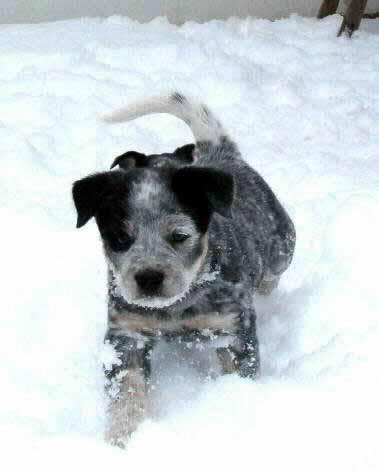 Homemade Dog Food Recipes
Hello, can someone please help me? I have 3 wonderful pugs all with different dietary needs and I am looking for recipes that they can all benefit from. First, there is Chango (5 yrs.), he is currently on the Hill's c/d diet for prevention of struvite crystals. He has been on this diet since he was 1 yr. old. Then, there is Smash (5 yrs.), who has recently been through surgery to remove calcium oxalate stones from his bladder and has had 3 encounters with elevated liver enzymes and is currently taking a thyroid medication for hypothyroidism. This guy is the hardest to evaluate only due to everything going on with him. I just need him leveled out to find out what is causing all of the commotion. He is currently eating the Hill's l/d diet and advised to eat zero protein. But the more I investigate, this diet is all wrong for him. Then, there is Chopper, who has allergies. I was feeding him Solid Gold Hund n Flocken (lamb & rice), but now he seems to have a bit of a weight issue. I have recently switched him over to Blue Buffalo Weight Management. Can anyone help? I would greatly appreciate all of the advice I can get. Thank you.

Sincerely,
Linda :o) (03/01/2008)

By LBorjas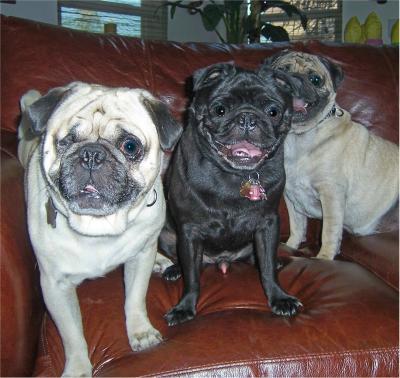 Homemade Dog Food Recipes
I have a Chihuahua who is very picky. I make chicken, whole wheat pasta, and mixed vegetable and she eats 1/3 cup/day and loves it.

I read homemade dog food should have 1 part whole grains, 1 part vegetable, and 2 parts protein. (03/03/2008)

By Carol
Homemade Dog Food Recipes
I have a 16 week old Norfork Terrier who I started cooking for a few weeks ago, and I have researched this subject relentlessly and have come up with some very good combinations and he loves it. Oly only weighs 8 lbs, and won't be more than 11 - 12 lbs. when fully grown, he eats 6 oz. a day. I cook up several meats. Very lean ground sirloin, ground chicken, ground turkey, hard boiled eggs, boneless chicken tenders, chicken giblets, hearts, eye round roast (cut into small cubes). At least half my recipes are protein. It is very important to make sure your puppy dog gets variety. The more, the better. The other half is a combination of veggies (peas, carrots, broccoli, sweet potatoes, green beans, squash etc.) Note: I buy jar baby food. The only thing in it is veggies and water. I add in some applesauce (unsweetened), or banana, mixed berry, a little pure pumpkin, some lentils on occasion, a touch of honey, organic minced garlic is good, yogurt or cottage cheese, a little parsley or basil, sometimes a dash of no salt salt, either purified water or beef or chicken broth and freeze it in 6 oz. plastic freezer Ball containers. (Yogurt should not be frozen, but should be added just before serving to your pet) I also add in his supplements.

I also feed him liver once or twice a week, but only about 5 to 10% of the recipes should be liver, so I freeze it already cut up in a freezer baggie and take a few pieces out when I add it in. He gets different combinations and sardines or salmon added about once a week. I take one container out, thaw it, I mark it so I know if it has cottage cheese in it, if it doesn't, I add a little yogurt to it for probiotics, which they need. He's little so I add 1/8 tsp. calcium (ground eggshell - rinse and dry eggshells overnight, and grind in a clean coffee grinder) he also gets 1 probiotic (keep refrigerated, and use daily, I open it and pour it over his food) I also crush to powder 1 puppy vitamin and add.

Every 3 days he get 1 fish oil soft gel because it's 1000 ml and he doesn't need that much every day because of his body weight. He loves it, and I feel safer. Mix everything in really good and serve warm. Sometimes I give him some long grain brown rice, a little wheat germ etc. and I also make him homemade snacks. His coat is shiny and softer, his stools are firm and less frequent (not runny and 6 times a day, and not as foul) He's much happier, and when I spoke to the vet about what I was doing, they thought it was a great thing to do.

It doesn't take that much time out of week, and he's worth every second I spend making his food, and every cent I spend on it. It is a good idea to research your specific breed as well to find out if there are target foods that may not be advisable to feed your specific breed. I know mine for example has traits of contracting kidney problems, and therefore, white rice and any soy products are probably not good for my puppy. It never hurts to research and the more you do, the more you learn. I feed him warm food because cold is not good for the tummy, and I change his water often (stainless steel seems to be best - plastic brings in more bacteria I've read) I warm his water as well and add in either chicken or beef broth in his water, and I get lots and lots of kisses and waggly tails !!! PS. I also let him have RMB's. It helps with balancing out what he needs nutritionally. (03/03/2008)
Homemade Dog Food Recipes
Garlic is not "toxic" to dogs - and neither is broccoli. Fresh glove garlic is actually good for your pet, and so is broccoli. There are several good sites out there and what is toxic to dogs are chocolate, grapes (too many) raisins and onions are toxic as well, there are a couple others as well but garlic and broccoli are not two of them.

There is too much research available and if properly balanced, there is no reason that an otherwise healthy pup can live to be 25 or 30 years old, and I have found that the very best dry dog food available is Life's Abundance available on line through Dr. Jane Bicks. The Best food you can give your pet is home made with supplements. Lots of variety too ! How would you feel if you ate the same slop day after day? A dog feels the same way, mix it up and see how much your dog loves you! (03/03/2008)
Homemade Dog Food Recipes
I run my own toy breed site which advises on feeding your dog, I personally recommend a raw diet for toy breeds prone to allergies. We make our own vaccum packed meals called back 2 basics and it sells well . I am a qualified aromatherapist, and use much of what I was taught to supplement the food with herbs, each pack is made specifically for your dog if they have an illness.

I can state thus far , all dogs now using our diets have less tearstains, no illness, no allergies and hey they dont itch. (03/17/2008)

By Karen
Homemade Dog Food Recipes
Fresh garlic most certainly IS toxic to dogs. Please do your homework before posting such an irresponsible thing.

Dogs living to 30 years of age? Get serious...just as people can live to 150 years of age?

Yeesh. (03/17/2008)

By Boujie
Homemade Dog Food Recipes
My Wheaton/Westie Mix, Jackson, Loves peanut butter. He also loves fruit. His favorite home made treat goes like this.
1 1/2 c. mashed bananas
3 cups of quaker oats
1/4 cup of applesauce
1/2 c chopped peanuts
Blend together and pat into cookies. bake at 350 for 15 min. (03/20/2008)

By Christie
Homemade Dog Food Recipes
I've been raising dogs all my life and cooking for them almost as long. I started out feeding just table scraps and then switched over to regular diets.

Leafy greens are very good for dogs. Including broccoli. The only one I wouldn't feed is iceberg lettuce. Spinach can be used as long as it is in very small amounts and not everyday, and there is nothing wrong with feeding brocolli to your dog either. You need to lightly stem your veggies and then put them into a food processor with some purified water and process them up really fine.

There is a lot of controversy over whether garlic is "toxic" to dogs or not. Garlic can cause anemia to an animal if you feed an over abundance of it. Onions on the other hand are toxic. But Garlic is okay if you don't overdue it. It actually helps with fleas.

The last thing I would like to say is this; if Garlic is toxic and you can't feed it to your dog and broccoli is toxic too and you can't feed that to your dog either then I must be doing something wrong here. Maybe I need to ask my dogs who eat everything and look for more!

I've been feeding both of these things to my dogs for years and years, and my late dog, god bless her -- lived to be the ripe old age of 24 and she was still wagging her tail right up to the time she died. (03/27/2008)
Homemade Dog Food Recipes
I am currently making homemade dog food for my two Cavalier King Charles Spaniels - Holly and Teddy.

I am mixing 40% meat (two of the following - organic or free-range ground chicken (dark), turkey (dark), duck, lamb, venison or bison/buffalo), 40% veg (red or yellow potatoes plus at least 3 of the following - sweet potato, yam, turnip, cauliflower, carrot, broccoli, peas, beans, beet, rutabaga, parsnip, spinach, cabbage - if canned no salt added). 10% fruit (different varieties of apples or apple sauce, pear, berries especially blueberries, pumpkin).

Sometime I add yogurt and occasionally substitute the potatoes, for oatmeal or rice. I make up about 4-5 days of food at a time and since rice can cause bacillus cereus food poisoning if kept over 24-48 hours in the frig, I seldom use it. But, I am thinking about substituting barley or some other grain for the potatoes from time to time.

To prepare, I add all the ingredients into a large pot with water and simmer slowly for an hour or so until everything is soft. Then I drain much of the water off and mash it up finally a squirt or two of grizzly salmon oil and Im done.

To serve, I mix in a small amount of quality dry food right before I feed them for crunch and just in case. I also give them a doggy vitamin every couple of days. When I was feeding them store bought food they got diarrhea all the time, now they seldom get it. They look healthy and have loads of energy.

What do you think?? Am I missing something.
(04/03/2008)

By Jeanne
Homemade Dog Food Recipes
Thanks for the post about William Cusik. I checked out his site and ordered the book specifically for my 2 golden retrievers. Can't wait for it to arrive. (04/23/2008)

By Kristy
Homemade Dog Food Recipes
This has been such a helpful site. I've used info gleaned here and from a few other sites and have made my 10 year old Yorkie (who recently had a pancreatitis attack - boy was he sick!) homemade food. He's been eating it for 2 weeks and he absolutely loves it. He is waiting for me in the kitchen first thing in the morning and we always give him a second feeding just before we eat dinner. My son (who picks up the dog patch every week) can hardly believe the difference in his poop. He's had no more symptoms of any kind. I'm making another BIG batch of 30 one cup containers which I will freeze. I thaw it through the night in the fridge, and warm it slightly before serving it to him. He would do back flips for it!

I steam deboned chicken breasts in a little water, salmon or another fish and extra lean ground beef. I save the chicken water.

I food process the chicken, mash up the ground beef really fine, and flake the fish. I have these proteins in seperate bowls. In a large bowl I mix a big pot of cooked oats (no salt) and brown rice (no salt). In another bowl I combine food processed cooked veggies - last time I did sweet potato, carrots (lots), celery and green beans. I bought 30 Ziploc freezer bowls (1 1/2 cup size) and I measure 40% protein, 30% veggies and 30% rice/oats mixture into the container (just over a cup total). I mix it, pop on the lid and throw all these in the freezer. I take them out as I need them, warm them a little and add a spoonful of plain, organic yogurt. He loves it, and a couple of hours of work on a Saturday afternoon will give me enough food to feed him for a month. I'm so relieved that he is feeling so well. His energy is great, his elimination problems are over and he seems like a youngster again. A month ago we wondered if he was going to make it! (04/24/2008)

By Anna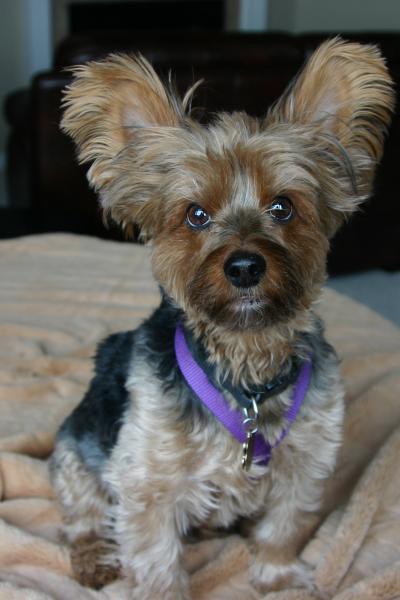 Homemade Dog Food Recipes
I have a 12 yr. old Pekingese who has congestive heart trouble. Any ideas on what I can make for her that's low in sodium?
Thanks (05/07/2008)

By DIANNE
Homemade Dog Food Recipes
I am just starting a homemade food diet for my 9 yr old border collie mix. She has to have a lower protein higher fiber diet for kidney and pancreas issues. Right now I am giving boiled ground white meat turkey and organic white rice. I tried to add a one a day vitamin but it did not agree. Has anyone had good luck without giving a supplement? (05/10/2008)

By sue
Homemade Dog Food Recipes
For those with Canine Kidney Disease there are some recipes at the following site:

http://www.petshealth.com/dr_library/caninekidney.html (05/14/2008)

By Karen