Homemade food recipe for my 7yrs old small yorkie dog? Who had surgery because of oxalate calculi stone and does not want to eat any of the dog food his vet doctor suggested to make homemade meals.
Jackie from stamford ct

With the recent pet feed recall, a lot of pet owners are nervous about giving store bought food to their dogs. Some readers have expressed an interest in recipes for making their own pet food. Do you have any homemade dog food recipes to share? Feel free to post them below.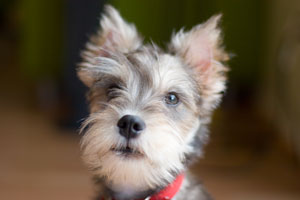 Answers:
Homemade Dog Food Recipes
This is a recipe I came up with for my dogs: Doggone Delicious Pumpkin Protein Shake

Ingredients:
2 TBS yogurt or kefir
1 TBS canned pumpkin
1/2 - 3/4 tsp peanut butter
1/8 cup safe fresh fruit or vegetables, sliced, diced, or juiced (however your dog likes it). or
1-2 TBS fruit or vegetable based baby food (preferably organic).
Directions

1. Stir the yogurt / kefir and pumpkin together in your dogs food bowl, until well blended.

2. Add your peanut butter and fruit / vegetables, stirring until they are evenly distributed throughout the mix.

Makes: 1 serving for a 5 - 20 pound dog.

I feed this to my toy and miniature poodles every 2 days, especially in the spring when they are most active.

Note: I freeze the canned pumpkin and kefir into serving sized cubes, and pull out the morning I intend to make this for my dogs.
(05/01/2008)

By Ellen
Diet for renal failure
Cori who was searching for homemade food for her older dog with renal failure should look at http://www.vetprof.com and search for kidney disease in dogs. Our 13 y/o Bassett has been on the homemade protein restricted diet which is similar to Hills k/d which he also refused. He loves it and it's not too difficult to make. Of course you should make sure it's OK with your vet. There are several recipes at this site. Good luck. (05/24/2008)

By Cindy
Homemade Dog Food Recipes
I feed my dog Homemade Doggy Dinners. They a local Southern California company that makes all natural homemade dog food and treats, using 100% "people food". I used to make my own homemade dog food, but with work and kids it became too hard and to time consuming. Homemade Doggy Dinners is so easy I order off their web site at http://www.HomemadeDoggyDinners.com and they deliver the frozen dog food to my house, all I have to do is defrost a serving and my dog has a healthy gourmet meal that I know is great for him. (05/25/2008)
By Mary
Homemade Dog Food Recipes
http://www.hillspet.com/hillspet/search/searchResults.hjsp?d-49653-p=2 is the site for Hill's pet food - homemade recipes. I have used these for the past 25+ years for the dogs I've adopted with serious health problems. They also put the name they use [a/d, z/d, etc] so you'll know which one to make. I make up a batch and put it into the refrigerator till all used. Found that my Shh Tzus liked it better than the canned Hill's. (06/05/2008)

By JoanDogs

Homemade Dog Food Recipes
I changed my dogs over to the raw meaty diet about 4 years ago. Their health has improved. They have more energy, teeth are clean, coat is nice and shiny. I do give the raw veggies. (07/01/2008)

By alisacarol
Homemade Dog Food Recipes
To Lynn: my dog to was scratching his face and licking his paws. It turns out he was allergic to the wheat in his dog food which i later found out was quite common in dogs.
I now feed him science diet dry food which has been doing wonders for him I also give him homemade meals. For something quick and easy I usually use some sort of canned meat (chicken, fish or beef) and I mix it with rice or potatoes and baby food vegetables (carrot or green beans). When I'm up for it I make more elaborate meals which can be found anywhere on the internet. The dry food keeps his teeth clean and the homemade food keeps his tummy happy.
My cat also suffered from allergies from commercial food which were life threating. She now is on prescription diet. Which is awful since that is the only thing she can eat and can not enjoy the same variety my dog does. Commercial food has proven to be very dangerous in my home and I try to stray away from it. (08/01/2008)

By Lisa