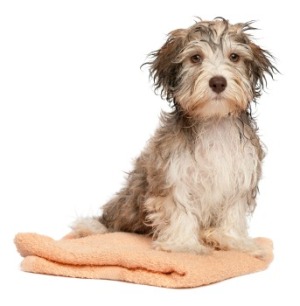 I am looking for homemade recipes for pet cleaning products.
By miranda robinson from Whitesville, WV

Answers
July 13, 2009
0

found this helpful
Al you need is some good old fashioned organic Castile Soap that can be purchased at a health food store or pharmacy.
You can buy it in liquid form or buy it in bar form. If you do the latter just grate the bar, mix with equal parts of boiled water by shaking together well in a bottle and allow to cool.
Castile soap is 100 % organic. My grama used to make her own and it was used for everything from washing skin & hair to laundry & dishes. It isn't as thick and doesn't lather as much as we are used to with store bought that has additives to thicken and bubble up but it cleans just as well and is definitely healthier & environmentaly safe.
Since one of the main ingredients is olive oil it is not harsh or drying.
If what you purchase is unscented you can add a teaspoon of lemon juice or a couple of drops of your favorite essential oil for each 8 ounces for your personal use.
July 14, 2009
0

found this helpful
This sounds interesting but is it healthy for our pets? I mean, they tell us that dogs need a certain Ph balance and it isn't' the same as we humans Ph.
July 14, 2009
0

found this helpful
Yes, Lisingreece, it's quite safe for pets! Unless certain essential oils that might be dangerous to various species are added the only two main ingredients are water and choice of which vegetable oil. Most Castile soap is made from olive oil. Some Castile soap has cocoa butter added, too. So just be sure the Castile you purchase doesn't contain: Peppermint, Lemon Oil, Lavender Oil, Tea Tree Oil, Cinnamon Bark Oil, Wintergreen Oil, Thyme Oil or Birch Oil
What a dog requires (and cats for that matter) is moisturized skin and nothing could be more moisturizing than natural vegetable oils and, in some brands, the cocoa butter.
I would rather use Castile soap on my pets than store bought with all it's harmful chemicals and preservatives any day!
Answer

this Question
Does anyone have recipes for Oatmeal and Aloe Vera conditioner and shampoo? I am also looking for recipe for Greenies dental chews and the dental filling that is minty and freshens breath. It is found in rolled raw hides. I have a large dog (50 pounds and growing). She is a Weimeraner.
By lisa from Brownsville, TX
Answers
June 1, 2011
1

found this helpful
Hi Lisa, (Brownsville, Texas) please research the greenies chews, several dogs have died from them the researchers say they do not digest correctly therefore they cause severe blockages and in many cases have resulted in the death of the dog. Just a pet lover's concern. Michele C. and Baby Girl (Yulee, Florida)
Answer

this Question