Tips and ideas for making your own dog toys. Post your ideas.
Answers:
Homemade Doggy Toy
Take old beat up towels, cut them into thin strips. Braid the strips together into one long rope. Tie a knot on each end. Now you have a homemade Doggy toy!
By RRementer2003 (03/11/2005)

By ThriftyFun
Homemade Dog Toys
We use old socks as dog toys. Tie one or two knots in it to use as tug-of-war toy. Works great! (03/11/2005)

By ladybear
Homemade Dog Toys
I have spent lots of money on toys for my pup, and the ones that make him the happiest are the ones that don't cost a dime. Put peanut butter in a cloth, wrap it, tie the ends, wet it and freeze it. Its great for teething. Secondly I put out a margarine container for water and found him tossing it and having a great time (just watch out for it breaking). Then we thought he'd love a Frisbee, so I tried the margarine lid as a Frisbee. It works and he loves it. Good thing I spent $11 on a Nylabone he doesn't touch! (04/19/2005)

By angie
Homemade Dog Toys
Take an old cotton rope, tie a couple of knots in it so it is about a foot long. Soak the rope in a chicken/beef broth for a while and then let it dry. The dog loves it and it is cheap. (06/28/2005)
By matt
Homemade Dog Toys
If your dog loves tennis balls, grab one and soak it in chicken/beef stock they just love it! (07/29/2005)

By sabrina_leegue
Homemade Dog Toys
You can give your dog or puppy an old stuffed animal that someone doesn't want or like anymore. Just be careful that it doesn't have any glass beads as eyes or a nose. (08/09/2005)

By Aspen Corren
Homemade Dog Toys
We put about a cup of rice in an empty pop bottle! The noise it makes keeps the dogs occupied and it's hard for them to grab (2 liter pop bottles work best for larger dogs).
(12/10/2005)

By Abby
Doggy toys - homemade
If you take a hand towel, knot one end (easier done when dry- knotting is optional), wet it really well, twist the towel gently without letting much water squeeze out, leave it twisted and place in freezer. Leave in freezer for half a day to a full day and let dog play with outside. Its great for the teeth, its healthy (as its just water), plus its refreshing for the dog in the summer because it nice and cool. The knotted end is great to hold when you throw it. (02/26/2006)
By GuineaPigLover
Homemade Dog Toys
Cut off the leg of an old pair of jeans. Tie in a knot and it makes a great tug toy. My dogs love to play tug with this together. Careful not to let them chew it up and swallow pieces.
(03/21/2006)

By mtnrin
My 5yr. old dog luvs it!!!!
All we do is get a bottle of water or just get an empty bottle (plastic) then squeeze it so it makes that crackly sound. Then throw it up in the air a lot so that your dog sees it and just keep squeezing it. Your dog will love it! (06/04/2006)

By Hattie
Homemade Dog Toys
My dog loves to lounge on the couch and just sit there and chew the couch to pieces. So if your dogs likes to chew furniture find an old pillow with no zipper, or if your dog chews wood find an old piece of wood that doesn't splinter and if you want even soak it in beef broth for awhile. (08/08/2006)

By Nevaeh
Homemade Dog Toys
Use an empty plastic bottle to make a Kong toy. Put dry food inside a hard plastic bottle, and cut a small hole in the end of it. As the dog pushes and shakes the bottle little bits of food come out! My Labradors love these and I leave them one each every day to play with. (09/10/2006)
By Joanne
Homemade Dog Toys
Take an old shirt, cut into 3 strips, and tie them together at one end. Then braid the three strips and tie the other end. You can spread peanut butter, soak it in broth, wet dog food or anything your dog likes or you can leave it plain. (02/04/2007)

By jackie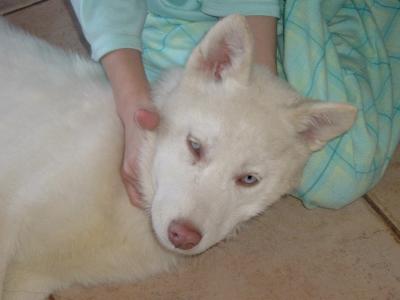 Homemade Dog Toys
I love the sock idea as it works brilliantly also if you take a tennis ball and drill a hole through it, thread some rope through the ball and knot the rope so that the ball can't come off. Your dogs will love this tug rope and tennis ball. (02/18/2007)

By ludo...<3</p>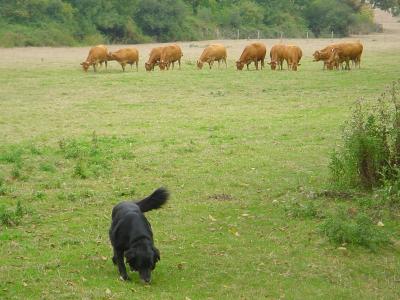 Homemade Dog Toys
I have a small Dog but even he can play with this toy. Take a plastic cup (The party kind or the kid kind for bigger dogs) and put a spoonful of peanut butter and a little bit of yogurt inside. Give it to your dog and they try to lick the cup clean. (06/29/2007)

By Emily
Homemade Dog Toys
This is a great one! Put some dog treats/food in the end of and old sock and watch your dog try to get it out! (08/10/2007)
By dougalgirl
Homemade Dog Toys
My Siberian husky loves to play with empty Gatorade bottles. (09/08/2007)

By Siberian husky luvr
Homemade Dog Toys
Get A empty water bottle and fill it with dog treats and when your dogs roll it food comes out! (09/22/2007)

By Christy
Homemade Dog Toys
Take 1 tennis ball and poke a hole in it fill it with dry food and your dog will roll it around for hours! P.S. If you want you can soak it in chicken/beef broth for 1 day and your dog will love it more!!! (12/18/2007)

By Lily
Homemade Dog Toys
Gunner loves his 3' of cheap bright green hose! The house water hose is black and he hasn't had a problem. (12/22/2007)

By custompetcare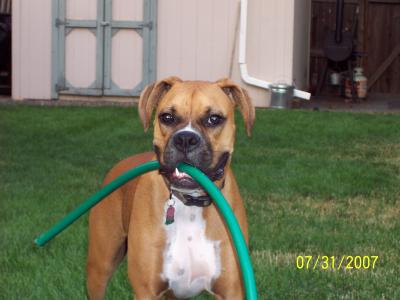 Here is a little something: it's called "Peanut Pops". Instructions: Take a regular rawhide like the ones sold in stores, and take some peanut butter. Use an ice cube tray and fill it with peanut butter. Insert the rawhide in the middle of the peanut butter. Freeze overnight or until hard. These are best in summer when your dog is hot. NOTE: If your dog gets sick with peanut butter, use water. It is just as good. (02/24/2008)
By Hattie
Homemade Dog Toys
Take 2 5x7 sheets of fabric sew them together and stuff them then give it to your dog it will love it. (05/03/2008)

By froboii
Homemade Dog Toys
Freeze a water bottle in the freezer. My dog loves it! When it thaws, just freeze it again!
P.S. May make floor a little wet. (05/21/2008)

By SAlly
Homemade Dog Toys
(submitted via email)
Ham bones have been known to be brittle and break off in very sharp edges, not good for a dog. Ingested, they could cause permanent damage for the the sharp edges. I myself purchased a beef bone from a local store to find the same thing happen. I actually cut myself on sharp edge. needless to say it got pitched. Never give dogs pork bones, they shatter into very sharp pieces. Please think again regarding this practice. Thank you for reading.
Louise (06/09/2008)

Homemade Dog Toys
Remember anything you give as a toy is letting your dog know its ok to play with it. If you give socks, shoes and kids stuffed toys they will then see all as a play toy that they can take anytime. We have lost a few kids toys and shoes we wanted to keep as he didn't know the difference because we were giving puppy the old ones. My experience of stuffed toys is the stuffing all over the yard! And a lot of clean up. (08/04/2008)

By Margaux