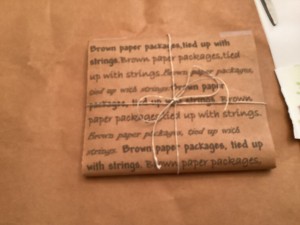 Making a small piece of gift wrap using brown paper and my computer printer. I needed some gift wrap for a small book, and because I'm still recovering from shoulder surgery, I didn't want to have to drive into town (7 miles round trip) to buy more.
We have a large industrial roll of brown paper with a cutter that we sometimes use for mailing, so I got a big piece and cut it to fit my printer. It had to be 8.5 wide, and 8.5 x 14 is the largest my printer will take.
Remember the song "My Favorite Things"? I've always liked the line, "Brown paper packages tied up with strings," and it's fun to get a package like that because of the surprise in opening it.
I played around with layouts and fonts and sizes and typed that line three times. Then I scrolled through all the fonts and found three that I liked and changed each line. I copied and pasted until it covered the page.
This could work with white or another color paper and colored print. But unless your printer will take larger-sized paper, it will have to be for a small gift. My friend was turning 80, so I got her Judith Viorst's book of poems "Unexpectedly Eighty."
Because the layout wouldn't completely cover the paper, I trimmed each side just a bit, and then trimmed off the top and bottom. Wrapped the book and then I tied it with string.
I'm thinking I could do this with lines from Christmas carols or a well-recognized quote from a movie or a song. I do think three different fonts is enough. It could be done with pretty handwriting instead of a printer, but my handwriting....isn't.