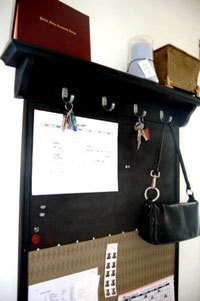 This will keep your whole family organized! Using recycled materials, you can create a beautiful message board to display in your entry way.
Approximate Time: About an hour
Supplies:
recycled cork board
recycled shelf
spray paint
fabric
decorative pins
butter knife
Instructions:
Spray paint the entire cork board and shelf the same color (you might want to remove any hooks first). Let dry.
To add visual interest, add some fabric along the bottom half of the message board. To do this, simply use a butter knife and slowly work the fabric into the frame of the cork board. Fold over the top part of the fabric as you slide in the sides. Use decorative pins to hold the fabric in place along the cork.
Attach the cork board and shelf to the wall right next to each other so it looks like one big piece.
Presto! Add a calendar or other important papers. If your shelf has hooks, it's a perfect place to hang keys or other essentials.
By Ci Ci from Yakima, WA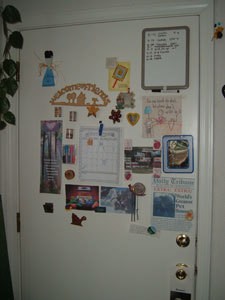 If you have a metal door, I have a wonderful idea that will help. If you don't you can still put up a metal sheet on the door, unless of course it is a decorative front door. Mine is metal and it's perfect.
I put kind of a message "SuperBoard" up on mine. I have my favorite magnets, a calendar, markers, a write-on/wipe-off board, a mirror, cute photos, and more.
I make notes on both the write-on and the calendar, keeping it pretty much at eye level. I rarely forget things now, as I either set them in front of the door at night, or put up a sign that says "take..." and don't have to waste tape. You can put permission slips, school menus and schedules, Dr. appts., car repair, and even coupons for food or entertainment.
I made a pen holder, the little short ones you can get at the dollar tree of big lots, and put them opposite ends alternating, in one of the sewing kit boxes from the dollar tree, and superglued a very powerful magnet on the back.
Just get in the habit of looking on the door each night and each morning, and it will be as handy as mine has been. I hope this helps!
By Sandra from Salem, OR
This is a darling little message board. Duct tape comes in so many cute colors now. This little message board is a series of strips of duct tape put into a square on the wall.
This covers up an imperfection in our pine paneling.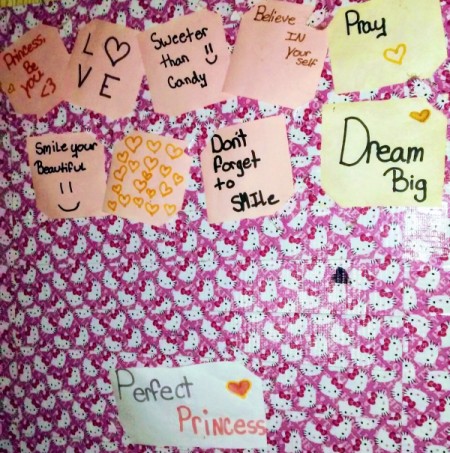 May 24, 2017
0

found this helpful
A message board that let's you communicate expectations or chore duties to your teenage kids, even if you are not at home, can be very helpful. This is a guide about making a DIY message board for your kids.