This is the rain barrel we installed last summer. We live in the southwest high desert where it is arid, but we receive summer monsoon rains. By using our rain barrel, we used almost no fresh water on our vegetable garden last year. We bought the 55 gallon barrel from the local flea market for $20. It had held Dr Pepper syrup and smelled good! :-) We bought the faucet parts for a little over $10.
First, cut out the hole in the top, then drill out a hole near the bottom and reach in and attach the faucet parts. There will be a nut on the inside and the faucet on the outside. Run a bead of silicone caulk to make sure nothing leaks. We had the hardware cloth on hand and used small zip ties to attach it. It doesn't keep mosquitoes out, but with three preschoolers in our family, we were more concerned about keeping them out than keeping mosquitoes out. If that isn't a concern for you, you can use window screen for the top.

Our downspout was loose, so we removed the bottom section of pipe, pulled it out from the wall a little, and put the barrel up under it and rested it on some stacked bricks for a gravity flow. I've also seen barrels in my neighborhood with the downspout pipe shortened and directed to flow through the mesh into the barrel.
After the winter thaw and things warmed up, there was a lot of algae growing in the barrel's standing water. The garden plants don't care!

By Katie from Gallup, New Mexico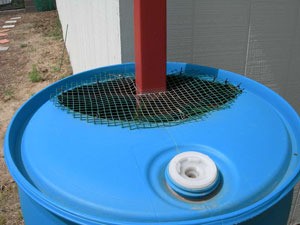 Answers:
Homemade Rain Barrel
I am totally, unequivocably in favor of saving water! Our house is under construction, so no gutters yet, but I do have a little bit of info...

We have purchased barrels for $5 from a car wash supply. Bear in mind that some of the chemicals that were in them are toxic. If possible, go for the ones that just held soap, and then triple rinse (at least!)
With West Nile being the problem that it is, could you add window screen over the hardware cloth? Also, if you never drain it completely, adding a couple of inexpensive goldfish to eat the mosquito larvae and algae can be very beneficial.

Speaking of algae, I have learned the hard way that some kinds can cause serious damage to animals, so be careful if you've got an accumulation, that animals (and kids) can't get into the water for a drink.

We used to live on a farm where the older couple who homesteaded it were the very definition of "thrifty". They had gutters set up on a small barn, and by moving one piece to different tanks, we could fill up three horse water tanks with a total capacity of about 900 gallons. Considering that the well water was no good and all water had to be hauled from town, that made a HUGE difference. Most people don't realize that the amount of water that comes off a normal roof in a normal rain is incredible! (06/07/2007)