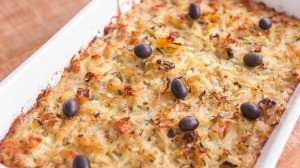 I am a lover of the Hashbrown Casserole served at the Cracker Barrel restaurants. I live in Canada, however, make sure we get to have meals at the Cracker Barrel's each time we travel to the USA. I have one recipe that is frozen hash browns, sour cream, cheese, a can of creamed soup, but this does not taste anything like the real thing. If I can push a bit further? How about their Buttermilk Biscuits, they aren't popular at all here in Canada, not sure why since they taste divine! Any help? Thanks!
Darlene from Bancroft, ON Canada
Cracker Barrel Hash Brown Casserole
Ingredients
1 26 oz bag of country-style hash browns
2 cups shredded Colby cheese
1/4 cup minced onion
1 cup milk
1/2 cup beef stock or canned broth
2 Tbsp. butter, melted
Dash garlic powder
1 tsp. salt
1/4 tsp. ground black pepper
Directions
Preheat oven to 425 degrees F. Combine the frozen hash browns, cheese, and onions in a large bowl. Combine the milk, beef stock, half the melted butter, the garlic powder, salt and black pepper in another bowl. Mix until well blended, then pour the mixture over the hash browns and mix well.
Heat the remaining butter in a large,ovenproof skillet over high heat. When skillet is hot, spoon in the hash brown mixture. Cook the hash browns, stirring occasionally, until hot and all of the cheese has melted (about 7 minutes). Put the skillet into the oven and bake for 45-60 minutes or until the surface of the hash browns is dark brown.
Note. You can also use a 9x9 inch baking dish.
Source: This recipe is from "Top Secret Restaurant Recipes", published in 1997 by Todd Wilbur.
By roadgypsygranny from Atmore, AL
Comments
By MaryCrane (Guest Post)
October 10, 2008
0

found this helpful
Top Comment
My Husband purchased the Cracker Barrel Old Fashioned Country Cooking Cookbook from Cracker Barrel some years back. Here are the two recipes you requested!!
Hash Brown Potato Cassarole 8-10 Servings
2 cups shredded American or Cheddar Cheese
1 - 10 1/4 oz. can cream of chicken soup
1 cup sour cream
1 cup finely chopped onion
1/4 cup butter, melted
1/4 tsp. salt
1/4 tsp. pepper
1 - 32oz package frozen loose-pack hash browned potatoes - thawed
1 cup corn flakes, crushed
1 Tbsp. Butter, melted
In a large mixing bowl combine the shredded cheese, chicken soup, sour cream, chopped onion, 1/4 cup butter, salt and pepper. Mix well. Fold in the thawed hash browned potatoes.
Turn mixture into a greased 9x13 baking dish. Toss together the cornflakes and 1 Tbsp. melted butter and sprinkle over the potato mixture. Bake @ 350 for about 1 hour or until the cassarole is golden brown and the potatoes are tender.
Southern Homemade Buttermilk Biscuits Yield: 16-20 biscuits
2 cups all purpose flour
2 tsp. baking powder
1/2 tsp. baking soda
1/2 tsp. salt
1/4 cup shortening
1 cup buttermilk
Sift together the dry ingredients, Cut in the shortening, add the buttermilk, and mix well. Turn out on a floured board. Roll out and cut. Bake at 450 degrees until browned.
Enjoy!
Read More

Comments