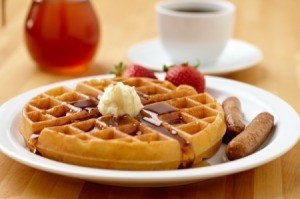 50 year old top secret recipe for Waffle House waffles. Waffles are made this way in all 1479 chain stores.
Ingredients:
1 1/2 cups all-purpose flour
1 tsp. salt
1/2 tsp. baking soda
1 egg
1/2 cup plus 1 Tbsp. granulated sugar
2 Tbsp. butter, softened
2 Tbsp. vegetable shortening
1/2 cup half and half
1/2 cup milk
1/4 cup buttermilk
1/4 tsp. vanilla extract
Directions:
Combine flour, salt, and baking soda in a medium bowl. Stir to combine.
Lightly beat the egg in another medium bowl. Add the sugar, butter, and shortening. Mix well with an electric mixer until smooth. Add the half and half, milk, buttermilk, and vanilla. Mix well
Add the wet mixture to the dry mixture. Mix only briefly. It's okay if there are small lumps in the batter, since over beating could produce waffles that are too tough.
Cover and chill over night. (You can use the batter right away if you like, but a good 12 hour chill, makes a better batter.)
Rub a light coating of vegetable oil on your waffle iron or use a non-stick spray. Preheat the waffle iron. Leave the batter out of the refrigerator to warm up a bit as you waffle iron is preheating.
Spoon 1/3 to 1/2 cup of batter into the waffle iron and cook for 3 to 4 minutes or until the waffles are brown.
This recipe makes 6 delicious waffles
Don't eat too many! LOL
Source: Top Secret Restaurant Recipes 2 by Todd Wilbur
by aggie71446 from Leesville, LA
Read More

Comments