Instead of buying those high priced bags to store things in like clothes and bedding etc., you can take the garbage bags, fill it up with jackets or bedding or what ever. Then put the vacuum cleaner hose in it, and suck the air out then tie of and it will do the same thing as those high priced bags. I have stored many things that way for a long time. They work great.
By Tera from Stockton, CA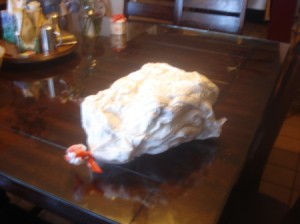 I have been doing this for years and it has been such a big help. I don't go buy those costly shrink bags; I use regular garbage bags and pull the tie and even tape the end of the bag for great sealing purposes. It is also very useful to do when you need to ship something that is large and you don't want to pay the big price of shipping as this can make your package so much smaller.
Check out my picture of this large fur coat I did. It is great for organizing in your basement or closets too. You can use the thicker garbage bags for items that are heavier or have sharp edges. It works for lots of things. Hope you enjoy the tip. I love sharing when I try something and it works.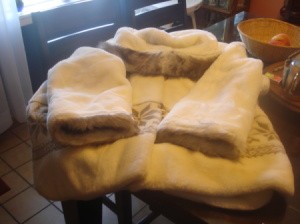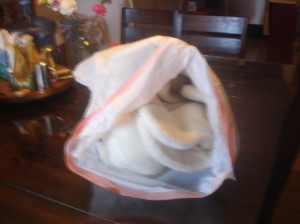 By Bonnie from Brownsville, TX
Please, can someone give me some advice? I tried using black bin bags and the vacuum cleaner to suck the air out instead of the more expensive space bags, so far, so good. They worked great for storing clothes in the closet "except" that I don't know what to tie them off with so the air doesn't escape from them. Any suggestions please, for what I can use to securely tie them off so they don't grow big again? Thanks so much.
By cettina from Malta, Europe
Answers
April 13, 2011
1

found this helpful
One technique is to tie a knot in the bag itself. I have tried using those little ties and they don't work for long. You will not be able to fill the bag as full, and you will have to be very fast. Honestly, what I do is lie or sit on the bag until I can get it tied. Good luck.
April 13, 2011
0

found this helpful
I twist the plastic bag top and fold it over to keep the air out while I wind heavy elastic bands onto the twisted/folded piece.
April 13, 2011
2

found this helpful
There was a tip here not long ago that would work really well for this task! I can't find the tip now but what you do is cut the top off of a used water or soda bottle just below the neck of the bottle under the little 'ring' (the little ring that ends up being there after taking the cap off the bottle).
Pull the open end of the plastic bag through the center of the bottle neck (without the bottle cap on), fold the open plastic bag end down and around over the neck and put the cap on. Sorry if I am not explaining this well, Cett, but I think you'll understand what I mean.
April 14, 2011
1

found this helpful
Deeli, I know exactly what you mean and its a great idea! So much easier later on when I want to open the bag. Thanks so much for a brilliant suggestion.
April 14, 2011
0

found this helpful
Thanks, Cett :-) I think what made it come to mind is because it truly is similar to the idea of how those space bags are closed anyway. I can't help but wonder if placing them on before vacuuming out the air would work too?
April 19, 2011
1

found this helpful
Deeli, your idea of attaching the bottle top (you know what I mean) first, then vacuuming out the air is a wonderful idea! saves time and you don't let extra air inside the bag. It only takes one second to screw the bottle cap back on. Thank you so much for your "genius" suggestion!
April 20, 2011
0

found this helpful
Cett, you're such a doll for letting me know it works for the air vacuuming too! Yay, Yay, Yay! :-)
April 21, 2011
0

found this helpful
No prob Deeli. Was the least I could do after such a great suggestion. You have to cup your hand around the "bottle" opening and the vacuum nozzle so that the vacuum can work properly, but that's a small price to pay.
February 2, 2019
0

found this helpful
That's such a great idea with the bottle top and cap! Unfortunately, if you're using a really thick bag, the cap may not want to thread back on too well. I've found a way around this that involves forgoing the cap in favor of a cork! You just have to find a bottle top (most water and soda bottles are fine) to fit the cork (most plain ones from a wine bottle do great), and the benefit of this is being able to squash it in quickly!
Just make sure that it's secure so that air doesn't sneak out...I sometimes put a few strips of duct or electrical tape over it to hold it in place! Also, if your bottle opening is too large for the cork, you can wrap it in some tape too and snug it up!
Answer

this Question

...
I read in your column awhile back about someone using black trash bags and the vacuum cleaner to make a large space bag. Does anyone remember this?

Junebug from Long Beach, MS

Answers:
Homemade Space Bags
I've done this! I was at my brother's and didn't have enough room to bring all my stuff home so we took a black garbage bag and put all the stuff in there and used the vacuum to suck the air out.
It worked perfectly. (04/20/2007)
By Denise
Homemade Space Bags
It works as well as the junk you buy. The problem is getting the bag to stay closed and keeping out the air. Under no circumstances waste your money on the commercial ones. They are flimsy and leak. Donate, recycle, and discard something for every item you purchase. Best way to get more space. (06/24/2010)

By SAT