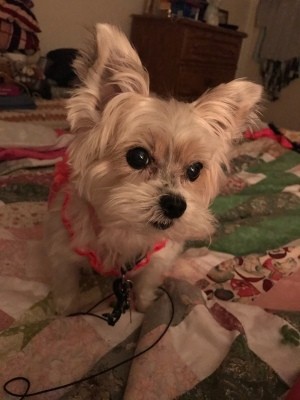 My female Yorkie is 10 years old. I got her when she was 9 after her owner passed away. We connected immediately, love at first sight. She follows me everywhere.
She was sort of trained with potty pads but not very well. Ihave refused to use them. I always take her outside or walk outside with her. I have a doggie door and she learned to use it immediately. She gets highly praised and receives a treat. She will be good for a week or so and then itis like she forgot what to do and pees in the kitchen. She gets scolded and no treat.
I have an 18 year old male poodle and my brother has a 10 year old mutt. They are all small dogs. The other 2 dogs get a treat and my Yorkie does not. Iam frustrated. Yorkie does so well and then all of a sudden she seems to have a bunch of accidents.
She sees the same vet as I take my poodle to so he has known her all her life. I took her to the vet for a check and her shots after she came to me. All seemed well. I take her out after her naps and when I need to go and I go often. Sometimes she goes out on her own.
Iam baffled. What else can I try?