Household Chemicals for Pool Maintenance
Solutions
Share on ThriftyFunThis guide contains the following solutions. Have something to add? Please share your solution!
For pool maintenance, you can use these generic household chemicals to replace most of the pool store ones.
Baking soda is the same thing as pool store total alkalinity increaser (sodium bicarbonate or the more proper sodium hydrogen carbonate). 1.5 lbs per 10,000 gallons of pool water will increase total alkalinity by 10ppm.
Household bleach (sodium hypochlorite) can be used to shock the pool. This is especially important if you don't want to deal with calcium precipitation (especially in hard water). 1/2 gallon of household bleach (non scented) per 10,000 gallons of pool water will increase the chlorine level by 5ppm.
Muriatic acid can be used to lower the total alkalinity of a pool. You can find this in almost all hardware stores and it's sold as a cleaner. 1.3 pints per 10,000 gallons of pool water will decrease the total alkalinity by 10ppm.
Borax (yes, the stuff in the green box in the laundry isle) can be used to buffer the pH and raise it. 1/2 cup per 10,000 gallons will increase your pH. How much depends on quite a few factors so you will have to adjust according to the results you receive in your particular pool.
December 12, 2016
2

found this helpful
This is a guide about homemade pool chemicals.Find affordable alternatives to maintaining your swimming pool.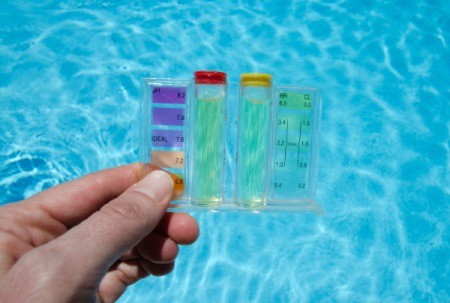 November 16, 2016
0

found this helpful
This is a guide about using baking soda in a swimming pool. Some pool owners look for alternatives to chlorine for keeping their pool clean.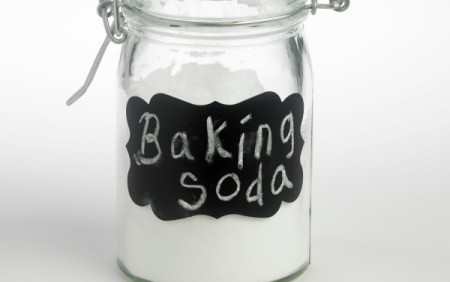 Questions
Ask a QuestionHere are the questions asked by community members. Read on to see the answers provided by the ThriftyFun community or ask a new question.
Many years ago, I added bleach to our kids' wading pool to keep the water from going "bad". Now my daughter would like to do the same with my 4-year old grandson's small wading pool. I don't remember the measurements? Would anyone know? Thanks.
By mkymlp
Answers
July 2, 2011
0

found this helpful
My hubby has a pool cleaning business and he said if its one of the little blue pools like from Walmart no more than 2 cups of the regular store bleach added to it. Basically 1 cup per 100 gallons.
July 5, 2011
0

found this helpful
Please use approved pool chlorine and not chlorine bleach. I know chlorine bleach is less expensive and people think that they both work the same but that's not true because it does not have the exact same chemical compounds as chlorine made for use in pools. There have been recent studies that show soaking in chlorine bleach can cause a myriad of internal diseases and decades of studies show that lung damage can occur from breathing in chlorine bleach fumes.
July 6, 2011
0

found this helpful
There was a recent medical study on eczema in children that showed that adding a teaspoon of household bleach to their bath water reduced their eczema. They think some eczema is caused by airborne staph bacteria.
Just a little would seem best. You can always add a little more to the pool.
July 6, 2011
0

found this helpful
The eczema study was one short term study of about three dozen children in 2009 and reported in a journal of pediatrics. The baths were done in conjunction with using antibiotics and/or steroids. Here's a short article with a bit more detail and some warnings:
http://www.baby -for-eczema.html
June 23, 2016
0

found this helpful
I worked in a chemical plant and we made bleach as a by product. To make bleach you take a tank of 50% liquid caustic and bubble pure chlorine gas through it. Bleach is the result. So in short. You are adding caustic every time you add bleach. This is not the safest way to add chlorine in my opinion.
July 15, 2016
0

found this helpful
Install the free android app pool pal. Enter your pools gallons and get a test kit. Flawless. I use it with a 380 gallon pool.
Answer

this Question

...
I have an 18,000 gallon in-ground pool. How much should I use and do I mix it in a bucket first or do I dump it in my pool?
Answers
May 18, 2017
0

found this helpful
There is a lot of good information on-line about using household chemicals in your home pool but to be safe you should always use pH test strips in the water to test your pool's pH. Follow the instructions on the package to interpret the results.
This question has been asked and answered several times on ThriftyFun so you can benefit from past information/instructions.
Just check out this link:
http://www.thri intenance-1.html
May 19, 2017
0

found this helpful
Here is a great article about it: http://www.swim pool-care-basics
You can sanitize with chlorine or bromine. Test your pool several times a week.
Answer

this Question

...
Can I use just borax and baking soda in an above ground pool? My boyfriend is allergic to chlorine bleach. We would like to get the pool in the back yard running, but he doesn't want to pay for the expensive baqucil. We would like to use household items to keep the pool balanced. I'm just trying to find a way where we can avoid using chlorine.
Answers
May 19, 2017
0

found this helpful
You would need some kind of ionizing pool cleaning system if you don't want to use chemicals.
June 14, 2017
0

found this helpful
Try ozone instead of chlorine. Good luck. Lynn
Answer

this Question

...
Related Content
In This Guide
Categories
Guides
More
Categories