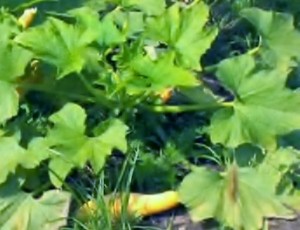 I have not yet had a chance to try this tip, but heard it around the time I vowed never to plant squash again due to hating to see it destroyed by the nasty squash vine borer! I would love for an intrepid TF reader to try it out and tell me if it works. Next time I plant squash, I will try it out.
The squash vine borer is a very insidious moth that feeds on squash plants. You can tell it attacked your squash when you can see that the stem of the plant itself has been destroyed and gutted out by a disgusting fat white grub. Apparently, the squash vine borer comes up from the soil through the root structure.
Therefore, a very simple thing that will pretty much guarantee that the bugger will leave the plant alone is to plant the seedling inside a large jar or can, and then plant the can inside the garden bed itself! Or you don't even have to do that if you don't want to, for squash is one of the sorts of plants that will do well in containers due to small root structure - always be sure you have at least one male and female, though.
This should see you have no pest problems for the entire season!