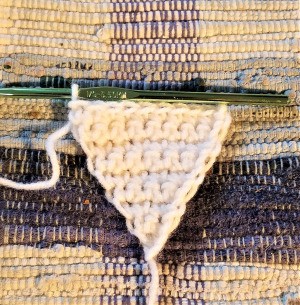 I love making triangles. It's mindless and so versatile. But as much as I love increasing my one per row, I detest decreasing. Let me know how you the difference in how I do it vs. the patterns.
They are not wrong, mind you. I just prefer a smoother edge. I saw my mom make a massive afghan for her hubby, and it was all diamonds. Six of each, with three variegated and three solid. Then each point had a black diamond laying on its side, connecting them. This made a large hexagon. Then she connected the hexagons when done.
She complained once that her decreased side was a bit "rough" and wished it was smooth like the first half. It even made sewing them together harder. Since then, I have thought of this and have being doing this my way ever since.
Now, each new change has its trade offs.
One: You have a seam in the center of your diamond. If it's all the same color, you might not worry about it. Also, having a running stitch instead of a whip stitch looks nicer, at least to me.
Two: You can choose to make your row patterns go the same way as I did, simply by twisting it to make them run the same way. If this isn't important, again it's not an issue. Sometimes it can be fun actually, to have them go off in opposite directions.
For a good triangle, you simply start with a chain 2. Then make a single in the first chain. Believe it or not, this counts as two rows. It's not hard to miss or forget, but they are the basics of the triangle, no matter how far you go or how big you make it. If you look at the photos, you can count the rows and it might look like there are only 8, but there are 10 if you remember the first two.
The first five shots show mine, where you make your triangle and then, chain 2 and continue on with the other "half" of the diamond, so the smooth edges of the first half continue on for the second.
The last two shots show the first half and then the decreased half. It might seem easier and in fact, it is, but this option gives you a choice.
I hope this helps. PBP