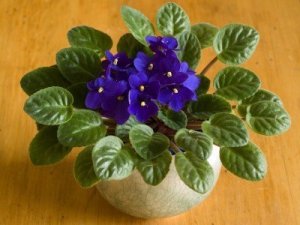 Division is an easy and inexpensive way to increase your houseplant stock. It's also a great way to "friend" plants to others, and a good method for rescuing and preserving plants that are showing obvious signs of decline. The method varies slightly depending on the type of plant you are propagating, and some plants can be divided using more than one type of method.
Preparing Plants for Division
Spring is a great time for dividing plants because they are waking up and getting ready to move into their active growing season. To prepare your plants for dividing, start to give the plants less water than usual a few weeks ahead of time. When it's time to divide, remove the plant carefully from the pot and make sure you have a sharp, sterile knife on hand if you need to do any cutting. To succeed on its own, each new division will need a good root system and healthy top foliage. Repot all divisions in sterile containers filled with fresh soil, and water them immediately. To minimize transplant shock, keep newly potted plants in a cool, shady area for several days.
Offsets and Basel Shoots
Some houseplants multiply by producing "suckers" or clusters of stems at the base of the parent plant. Examples include African violets, aloes, mints, ferns, bromeliads, and many types of succulents. These plants can be easily divided by separating a side shoot from the main plant. Carefully remove the plant from its pot and slowly tease the sucker apart from the parent.
The roots of the sucker will be intertwined with the roots of the parent so take your time and try to avoid damaging the fragile roots. Once you've separated the sucker and its roots, plant it in a separate container filled with fresh potting soil. This is also a good time to repot and refresh the soil of the parent plant.
Plantlets
A few houseplants, such as trailing African violets, saxifrages, and spider plants, also reproduce by sending out aerial runners that form miniature plants at the end of stems or leaves. These little replicas of the parent plant can be pegged down to the soil using a U-shaped pin until they develop their own set of roots. Once they do, simply cut the runner from the parent plant, lift it out of the pot, and replant it in its own container.
Rhizomes
Many houseplants (for example, begonia, snake plants, agave, African violets) spread by underground rhizomes, which send up "plantlets" a small distance away from the parent plants. To divide these plants, remove the entire root ball from the pot and use a sharp knife to slice it into sections - each section containing an individual rhizome and its attached shoot. Transplant all the divisions into individual containers, filling in the area around each slice with fresh soil.
Bulbs, Corms, Tubers, and Tuberous Roots
These houseplants all feature an underground structure that stores food and water when resting. Many of these plants die back as soon as they finishing flowering. Examples include tuberous begonias, cyclamen, Cupid's Bower, and African lily. They usually produce new bulbs, corms, or tubers during their growing cycle, which can be divided when the plants go dormant.
To divide these plants, wait until the foliage withers and dies back naturally. Lift the plants from their pots and remove the excess bulbs from the main plant. These can either be potted up right away or stored in a cool, dark, dry place until the growing season begins. Expect bulblets to take at least a year or so to reach maturity after being planted.