EllenB
Gold Post Medal for All Time! 858 Posts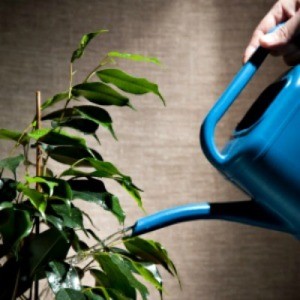 Tap water contains a variety of minerals and salts. Some of them occur naturally, while others are added to make water safe for human consumption. Under the right circumstances, these minerals and salts can cause significant damage to your houseplants. Although distilled water (and rainwater) is probably the safest water to use on your houseplants, most ordinary tap water is acceptable provided it isn't softened or full of fluoride. Here is a short rundown of how different minerals and salts in tap water can cause damage to your plants and what you can do to prevent it.
Chlorine
Chlorine is added to public water supplies to kill disease-causing bacteria. Some municipalities add heavier doses than others, and if added closer to the end stages of treatment, you may be able to smell it or taste it in the water coming out of your tap. Chlorine seldom causes significant damage to houseplants (the more likely culprit is fluoride).
When it does cause damage, it's usually to the tips of the roots, which affects the overall growth of the plant. The nice thing about chlorine is that it doesn't stick around long. If you fill up your watering can and let it sit for 24 hours before using it, the chlorine will simply leave the water by dissipating into the air in the form of a gas. Leaving your water to sit over night will also bring it up to room temperature, which most houseplants prefer.
Fluoride
Certain plants are very sensitive to fluoride. It's often added to municipal water supplies to help prevent tooth decay. The most susceptible plants, such as spider plants or dracaena, all seem share the characteristic of having long slender leaves. Fluoride damage shows up as brown spots and scorch marks along the margins and tips of leaves.
Young plants are more vulnerable and may develop as resistance to fluoride as they mature. Like chlorine, fluoride doesn't like to stick around very long. If you let your tap water sit for at least 24 hours before using it, the fluoride will leave the water by dissipating into the air. Every time you water your plants, fill up your watering can and so it's ready the next time you need it.
In addition to tap water, potting soils containing Perlite and certain plant fertilizers may also release enough fluoride into the soil to harm plants. To prevent it from building up in the soil, flush it occasionally with rainwater or distilled water.
Houseplants with a known sensitivity to fluoride:
Cast Iron Plant (Aspidistra elatior)
Dracaena (Dracaena)
Easter lily (Lilium longiflorum)
Parlor Palm (Chamaedorea elegans)
Peace Lily (Spathiphyllum)
Prayer Plant (Maranta leuconeura)
Variegated forms of Spider Plant (Chlorophytum comosum)
Hard Water
If you live in an area known for hard water, you may have noticed a white or yellow crust developing on the soil of your houseplants. This crust is made up of an accumulation of unused salts from hard water (salts can also build up from fertilizers). Over time, high levels of salts will raise the soil's pH and impair the growth of the plant. A simple solution is to leech out the excess salts by watering the plant deeply once each month until water runs freely out of the drainage holes. Using a light potting soil that allows for plenty of drainage will also prevent the build up of excess salts.
Softened Water
Softened water should never be used on houseplants. Hard water is softened by removing things like calcium and magnesium and replacing them with salts. The combination of removing minerals that plants find beneficial and replacing them with a high level of salts will eventually spell disaster for most houseplants. The damage can be seen in failed flowers, stunted growth, and in some cases, even death. Unless you're living by an ocean coastline, estuary, or salt-water marsh (and your houseplants are salt-tolerant natives), don't use softened water on your houseplants.
Dehumidifier Water
The jury is still out on whether or not to use dehumidifier water on houseplants. Consider the following information and then decide for yourself:Condensate water from your humidifier contains a certain amount of bacteria, dust, pollen, and fungi. Is it enough to harm your plants? Who knows. The water may also contain traces of any cleaning products that you use to clean the tank.Depending on what metals were used to make the chiller or air handler on your unit, the acidity of the condensate water may also contain dissolved copper, aluminum, and possibly lead or zinc from solder joints and metal piping.At least on well-known leading manufacturer of dehumidifiers has advised against re-using water for any purpose from its machines.
If it seems like a waste not to try to reuse water from your dehumidifier on your plants, test its effects on an inexpensive plant first before pouring on your more expensive (or sentimental) plants. Either way, skip using it on any of your edibles.
Comments
Read More

Comments