How to Make a Clothespin Apron
Solutions
Share on ThriftyFunThis page contains the following solutions. Have something to add? Please share your solution!
My mom recently purchased an amazing Breezecatcher revolving clothesline and decided that she really wanted to have a clothespin apron to use when hanging the wash. She found a style she liked online and we decided that we to make one using her choice of fabrics. This is how it turned out. She absolutely loves it! Click here to read a review for the Breezecatcher Rotary Clothesline.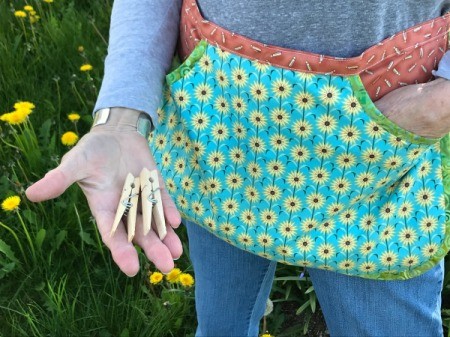 Supplies:
template (cardstock, pencil, ruler)
fabric for apron
fabric for pocket
fabric for binding and ties
pins
scissors
needle
thread
sewing machine
Steps:
Create a template on a piece of paper. The template is for both the main apron and the pouch pocket on the same piece of paper. Lay your hand on the template where you draw the pocket opening to be sure your hand will fit inside comfortably. Note: After cutting out the main apron pieces, you will trim the template for the pocket.
Pin the apron template to the fabric, along the fold. Cut out two.
Now cut down the template for the pouch pocket.
Pin the template to the fabric along the fold. Cut out two.
Bias Binding: Lay out the fabric, draw a line diagonally across (near the corner), then measure down 2 inches and draw another line across the fabric. Repeat until you have enough strips for the amount of binding you need. Then cut all of the strips.
Mark and cut off the diagonal ends of each strip.
Lay two strips together (right sides together) at a 90 degree angle, pin together, and then mark as shown below. Repeat until all strips are pinned together
Sew along the marked line, trim off excess fabric, then iron each seam flat.
Fold the binding in half and finger press. Then fold each side into the middle, finger pressing again.
Lay your two pieces for the pouch wrong sides together. Open your bias binding up and pin right side to right side of the pouch. We also basted it in place. Sew on your machine.
Trim off excess seam allowance and clip curves.
Fold the bias binding along the center fold back over the pouch pieces encasing the two layers. Adjust to fit and pin. Blind stitch along the inside.
Place the two layers of fabric for your main apron with wrong sides together. Lay the pouch on top. Pin along the top, through all 4 layers.
We decided to make a fabric loop to hang the apron between uses. Cut a rectangle of fabric and fold in half. Finger press. Open out and fold both sides to the middle and finger press again. Now fold in half along the center fold and pin. Stitch very close to the folded edges. Make a loop and pin to the inside of the main apron piece, loop away from seam. Machine baste (with 1/4 in. seam) the four layers of the apron and pouch with the loop in place.
Pin the clothespin pouch to the apron layers around the outer edge. You can hand baste or leave pins in place and use them to also pin binding in place.
Using the remainder of your bias binding, begin fitting to outer edge of apron again with right sides together. We decided to hand baste the seam as it was difficult to see the fold to use it as the stitching line. Once bias is pinned all of the way around sew on your machine.
Trim off excess seam allowance and clip curves. Fold binding to back side of apron and blind stitch in place. Press the binding once its all sewn on.
Create a template that is 17" x 3" for the ties. One of the short sides of the template should be placed on a fold, so that your ties will be 35" long. Cut two ties.
Fold your tie template down to 10" x 3" and use it to cut out the waistband. Place the template on the fold, creating a waistband that is 20" long.
Pin ties to waistband, right sides together and stitch with 1/2 in. seam.
Hem the ties with a 1/2 in. seam, right sides together. Trim seam allowances and clip corners.
Turn your ties right side out. We used a chopstick to assist in this step. Flatten along the seam and press.
Fold your waistband over the machine basting along the top edge and pin in place.
Begin top stitching on one tie and continue across waistband (this is actually also stitching it together over the apron top) and other tie. Turn at the end of tie and stitch up short end and turn again to continue top stitching across back to first tie. Close top stitching by turning and connecting to initial stitches.
It is done. See the front and back views below.
Tie it on and hang some laundry. The spacious pouch holds lots of pins.
Comments
April 29, 2017
0

found this helpful
A long time ago, I had an apron clothespin bag made like that and I loved it.
I miss my clothesline. A Breezecatcher would be perfect for me. I think I will start hinting around and see what happens. With Mothers Day and my birthday coming up, maybe something will happen.
April 30, 2017
0

found this helpful
It's beautiful! I'll work on one of these with my mum :)
May 22, 2017
0

found this helpful
This is a very neat idea!! This is a must try! & I'm going to try it! I just love hanging my clothes out, but always have an issue of how to keep my pins handy. This would save me time & pain from bending down too!
June 7, 2019
0

found this helpful
This pattern and tutorial are amazing! Thank you so much for sharing.
Categories
Pages
More
Categories