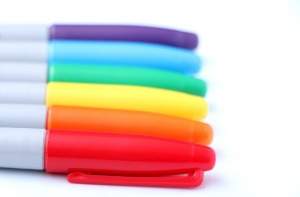 A 3 year old, a marker, and a cherished heirloom don't mix well at all. I am in tears. How do I remove permanent marker from my deceased grandmother's fabric living room chair? It is a formal living room chair. It is black marker.
By Tamara Green Eddings from Woodstock, GA


Answers:
Rubbing Alcohol
You might try this on a dime sized spot. Get some old rags to hold underneath the area you are testing and to blot with. Go to Walmart and get the 91 percent rubbing alcohol. Pour a bit into a small dish and dip a cotton ball into the alcohol until it's wet, but just short of dripping. Press into a small spot on the fabric, wait 1 minute or less if it starts to run, and blot. Repeat and see if it starts to come out.

Last month I realized I'd used a permanent marker on my dry erase board and removed it with rubbing alcohol. I just happened to have the super strength, regular is 70 per cent, and I think the extra alcohol helps.

By PENNY K
Ink Away
Ink Away made by GooGone! It states that it removes ink stains from fabrics and upholstery. I used it on the seats of my van that the kids wrote on with a black Sharpie, and it took it off. It comes in a small bottle (2 fl.oz.) and I got it at either Lowe's or Menard's. It's not for use on suede or leather. Good luck. I know your pain when it comes to kids finding a marker.
By patty