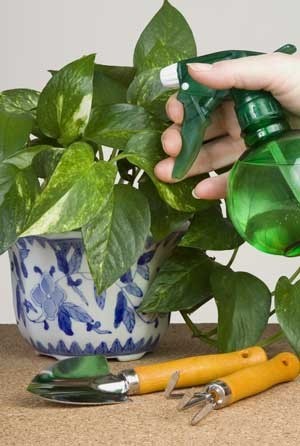 Most houseplants prefer humidity levels of 40 to 50 percent. Unfortunately, the air inside our centrally heated homes usually falls somewhere near the 10 to 30 percent range during the winter. To houseplants (especially flowering houseplants), this can feel like living in the Sahara Desert. Here are some techniques for keeping the air around your houseplants humid (and healthy) this winter.
Humidifiers
Humidifiers are a great way to increase the relative humidity in your home during the winter months. You don't need to raise the humidity of your entire house, just confine your plants and your humidifier to a single room. Running a humidifier for only part of the day can substantially reduce the risk of injuries plants suffer from bone-dry air.
Move Plants to Moister Rooms
Certain rooms in the house, like bathrooms, kitchens, and laundry rooms, tend to have higher relatively humidity (moister air). As long as they offer plants adequate exposure to light, consider temporarily relocating sensitive plants to these rooms during the winter season.
Misting
Use a hand-held spray bottle to coat both sides of your plant's leaves with tiny drops of water. As the water droplets evaporate, they will raise the relative humidity in the air around your plants. Always use water that is room temperature and mist the plants in the morning so the leaves have a chance to dry before dark. Misting needs to be done several times each day in order to be effective.
Grouping
Grouping plants together increases the relative humidity for all of them by trapping the air between them. The entire group benefits from water evaporating off of the potting soil plus the water lost through transpiration.
Pebble Trays
Another method for increasing the relative humidity around your houseplants is to place them on trays or saucers filled with pebbles and water. The bottoms of the pots should remain above the level of the water to prevent the roots from standing in water. As water evaporates from the pebble tray, it will increase the humidity in the air surrounding the plant.
Double Potting
Place your house plant (pot and all) into a waterproof pot that is one or two sizes larger than its current pot. Fill the space in between the two pots with moist peat or compost. This will provide a surface layer of moisture to evaporate and raise the relative humidity of the air around your plant.
An Easy Humidity Test
Using a hydrometer is the most accurate way to test humidity, but there is another simple way to determine whether or not the air around your plants is too dry. Place an empty drinking glass in the refrigerator overnight. In the morning, take it out and let it stand for 5 minutes. (Make sure you place the glass in an area away from heat vents, radiators or sources of steam.) The glass will appear frosty at first, but if after 5 minutes the surface of the glass is clear, your air is probably too dry. If the surface is still semi-frosty and reasonably moist, your air contains average humidity. Your plants will probably be okay, but they may need an occasional misting. If the glass is frosty and one or more water droplets have run down the surface, your air is probably sufficiently moist for most houseplants.
Signs Your Plants Are Too Dry
If your houseplants are showing any of the following symptoms, the air around them may be too dry:
leaf tips are brown and shriveled
leaf edges turning yellow and wilting
buds and flowers are shriveling and falling off
the plant is dropping leaves
"Dry-Air" Plants
As a general rule, houseplants with thin, papery leaves generally require higher levels of relative humidity. Plants with thick, rubbery leaves and those native to arid regions are usually more tolerant of dry air. The following plants are considered "dry-air" plants and are less sensitive to dry, indoor air: Aechmea, Billbergia (Queen's Tears), cacti & other succulents, Chlorophytum (Spider Plant), Dracaena godseffiana, Ficus elastica decora (Rubber Plant), Grevillea (Silk Oak), Impatiens, Nerium (Oleander), Palms, Pelargonium (Geranium), Peperomia and Zebrina (Wandering Jew).
Comments
March 17, 2011
0

found this helpful
I've had bad luck in the past with house plants. I have one now that looks like the leaves are turning a little brown.
Glad I found this article and hope I will have better luck in the future with plants. :)