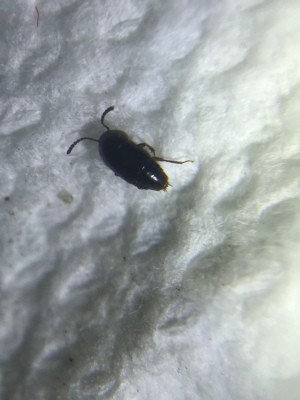 I found three of these small black bugs next to my house. My exterminator and I are completely stumped as to what they are. They appear to be extremely small oriental cockroaches, however they are almost smaller than the nymphs of that roach when they are born. We have also ruled out smokeybrown and PA wood roach nymphs.
They have wings that are dark in color that end halfway down their back and appear squared off (one photo shows a detached wing next to the bug). They do not have the ridges typically seen on beetles. Their antenna are slightly graduated in color, however again they do not appear to be smokeybrown roaches.
I receive regular pest control in my home as a precaution (I have major OCD and it is one of the ways I am able to cope), however this is the first time in five years neither my exterminator nor myself have come across a bug we cannot ID.
Any help would be appreciated!
I do know it is not a darkling beetle/carpet beetle, etc.
Thank you!