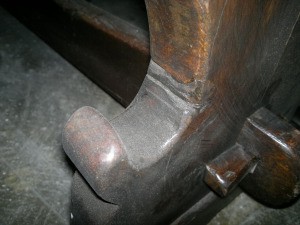 So I have added some more pictures to aid in the identification of when this table was made. It does have very thin screws in it which have been covered over by plugs of wood on the sides of the rails or putty on the curved section under the table.
The dowels look to be lathe made with the dead centre hole at the thinner end. They are very strait in the shaft maybe made by a metal lathe using an offset compound top slide method as well as the hole they go into is perfect looking to be Morse taper 3 angle cut by a tapered reamer in a fast rotating drill.
The wedges have pencil markings on them which is shellacked over? Also the wedges are distressed only in the area which is exposed not the area of contact?
I hope this helps you people to put a date on this item. It has some modern cabinet maker methods to it, but what I do not understand is if you are going to make it look like an old piece then why not go all the way and make it with dowels and use hand cut wood planks. It's too close to the real thing to just be a kitsch item at the local furniture store. It must have been sold as the real thing in a trade shop.
It did come from England about 30 years ago being shipped to Australia and was bought with other "genuine antiques" by the then owner. I bought their house and all of the items in it off them recently because they wanted to stay in England. I think they believed it was real being of the 17 century. It also disassembles like a flat pack design. Why would you do that in the 17 or 18 or 19 century?