Can anyone help me identify this style of leg or possible age range? It is on an old library or trestle desk/table.
The table has two drawers hidden on the table ends. It is solid oak and built with dowels, old style nails, and staples.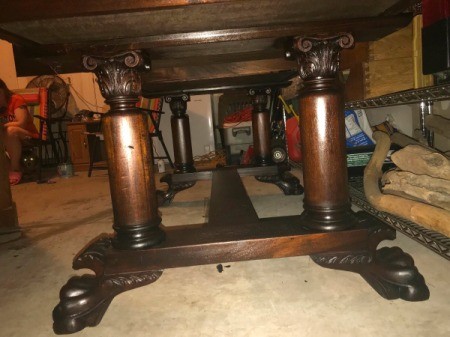 Any help would be greatly appreciated.

May 6, 2018
0

found this helpful
Best Answer
this definitely a 19th century/Victorian affectation, what with the clawfoot and the Ionic column at the top of the leg, with bespeaks a return to neoclassical aesthetics.
In particular the clawfoot was popular during what's known as the 'Queen Anne' era: "Many of the antique claw foot tables of the Queen Anne era, which lasted from approximately 1725-1755, stood on gracefully curved, slender cabriole legs. "antiques.lovetoknow.com/Clawfoot_Antique_Table

but if I had to guess, via a hint from the previous article, I think this table is more in the American Empire style of the 1800's en.wikipedia.org/.../American_Empire_style
"With the turn of the century, furniture designs reflected the return to neoclassical styles. American Empire style tables stood on flared legs often terminating in the clawed feet of lions and eagles."