Indian Butter Chicken Recipe
Solutions
Share on ThriftyFunThis guide contains the following solutions. Have something to add? Please share your solution!
I got this recipe from one of the Costco Connection magazines. It turned out so good, we had no leftovers. I will definitely make this again. It was rather time consuming but I think I could find shortcuts over time. Not exactly a diet food. :)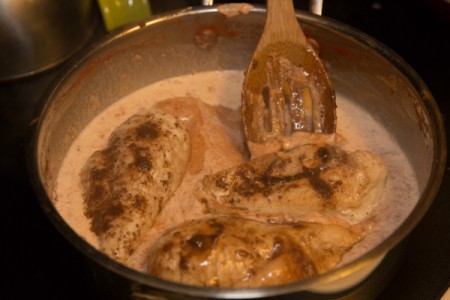 Total Time: about an hour
Yield: 6
Ingredients:
2 lb chicken tenderloins ($5.50)
8 tomatoes ($5.00)
1 Tbsp tomato paste
1/2 tsp ginger (ground)
1 tsp cayenne
1 1/2 tsp salt
2 tsp brown sugar
3 tsp garam masala
2 Tbsp olive or canola oil
6 Tbsp butter, chilled and in chunks ($75)
1 cup heavy whipping cream ($.5)
1 Tbsp nutmeg, grated
1/4 cup sliced almonds, toasted ($.25)
You can buy a small amount of unusual spices, like garam masala, in the bulk section of upscale grocery stores, like Whole Foods. You can also find it inexpensively at Indian grocery stores.
Steps:
Blanch and remove skins from tomatoes. Cut an "X" at the core of each tomato and place them in boiling water for about a minute. Move them directly to ice water and the peel should slide off easily.
Quarter and core the peeled tomatoes and put them into the blender. Add more tomatoes to equal about 4 cups, if needed.
Combine tomatoes, tomato paste and 1 cup of water in a large pan. Cook at a medium-high heat for about 25 minutes, stirring occasionally.
Heat sauté pan over medium heat, then add oil. Add chicken to heated oil and cook for 3 minutes per side, until golden.
Add 1 Tbsp. garam masala and 2 Tbsp. water. Cover and cook for 15 minutes.
Next the chicken needs to be added to the tomato sauce. Hopefully the timing will work out but, if not, the sauce will wait for the chicken or vice versa. Just keep them covered and turn the heat low.
When the tomato sauce timer goes off, most of the liquid should be evaporated and the sauce has become thick. If not, cook it a bit longer. Add ginger, cayenne, 2 Tbsp. garam masala, salt and brown sugar. Stir to combine.
Add in small chunks of chilled butter and let melt for 1 minute, then stir in. Add cream and cooked chicken.
Cover and cook for about 10 minutes. Add nutmeg and stir again, then serve. Add toasted sliced almonds as a garnish.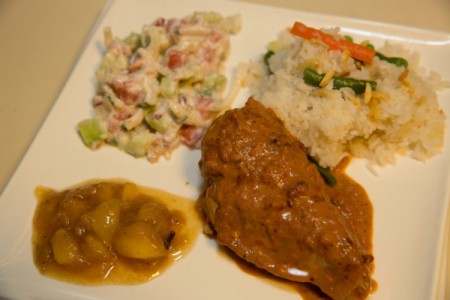 The next time I make it, I will probably substitute canned crushed tomatoes for the fresh tomatoes, or maybe even regular tomato paste. It should save a lot of time but I may have to adjust some other parts to get the consistency right. I'll certainly report back on my experiences. Hope you do too.
Related Content