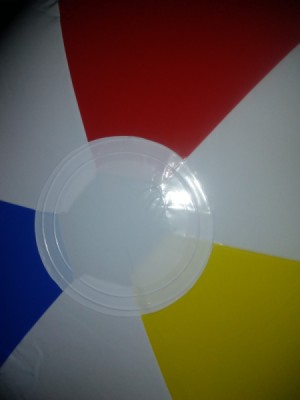 Recently, we had a warm day here in eastern Tennessee, and I decided to do a spring fun activity with my two dogs. Samson is a German Shepherd and Husky mix and Bruno is an older Catahoula, Rottweiler, and Chow mix who doesn't like to pose for pics. Bruno just walks by my side quietly when I am outside.
Anyway, they love sharing time with me in the yard, so I bought a beach ball and inflated it. We went out with me talking about the beach ball and how pretty it is. Their tails were wagging and they were smiling. Both of their eyes were on the ball as I threw the beach ball in the air.
The fact that this was an unusual toy enthralled them. They had the best time. It is good to change things up for pets, it keeps them motivated and happy. Here is Sampson. Bruno wasn't in any pictures, but was closely watching him playing with their beach ball. We had such a blast doing this! Happy spring everyone!

The way they looked at the beach ball makes me think they can see colors more than research says they can.