Has anyone used peel and stick tile in their bathroom? Do you have to use extra glue do to the moisture?
Kelly from Miami
Answers:
Potty Training
I have it in my bathroom. We used no extra glue on ours and it has held up to normal use. When we were potty training our son, that was a different story. I changed the tiles around the toilet 2 times before I just gave up.

Buy Extra
I put stick and peel tiles in my living room, dining room, and kitchen when we ripped up the old carpeting, as an inexpensive option. They aren't very sticky, you can re-apply with extra glue and it's good to buy an extra box for repairs.
By pamphyila
Installing Peel and Stick Tiles
I used it in my bathroom and I'm very pleased with the stickiness of it. As there is a bad part of the floor, that tile cracked. When I went to pull it up to replace it, it was stuck really good. I had to pry it carefully, as the wood under there is bad. Also, since our bathroom is small, we had plenty leftover for changing tiles if needed. I got a box of it from Family Dollar for 10 bucks and its very nice compared to the ancient linoleum we had there!

By Lily
Installing Peel and Stick Tiles
Oh, and also I started out using a utility knife but found out it can be cut to fit with good scissors. (06/19/2007)

By Lily
Keep Them Dry
It does come up at the seams after a few years. Depends on the wear and tear and washings, don't let water slip between the sides of the tiles. The tiles also tend to shrink slightly after 10 years, exposing the seam lines. They are not a very permanent solution.

By cookwie
Use a Roller
We just put vinyl stick tiles in our kitchen and dining room and were all ready to use extra adhesive. But when we read the package, it was very clear that we should not use any extra adhesive because it might interact with their adhesive. I went online to see what everyone thought and sifted through a bunch of posts, mostly saying that we should NOT even consider using peel and sticks. Most of them said that extra adhesive wasn't necessary.
We had already purchased them and decided to just go for it. We painted Kilz primer on the flat subfloor and also filled in the joints and screw holes with joint compound (sanded flat too). The tiles we got (Novalis) were extremely sticky and we had a hard time pulling them up on the few that we didn't stick down exactly straight. We went and rented a 100 lb. roller and rolled over the finished tiles to make sure they were very stuck down (it cost maybe $15.00 for a few hours). They have only been in for a couple of weeks but seem very stuck down and water resistant.

That said, for my bathroom, I would probably use a sheet of vinyl instead because I know how much water my boys get on the floor. I'm not sure the extra adhesive would prevent water from getting into the subfloor. I have also heard reports that it oozes up from between the tiles over time and is very messy.

Good luck and let us know how it turns out.

By jess
Flat, Clean and Dry Surface
I have used self adhesive wall tiles in both my kitchen and bathroom and they work really well. They have a large range of tiles to choose from too and different sizes. As long as the wall you put them on is flat, clean and dry they stick really well.

By Zoe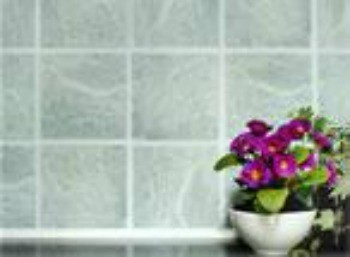 Back Splash
I have Stick and Go tiles in my kitchen as a back splash and I love it. I have not had any trouble with them. In fact, I am going to order some more to do my bathroom. There are so many things you can do with this tile without using glue. (08/28/2008)

By Venita
Metallic Backsplash
I used the metallic for my kitchen back splash. Easy to install and looks great. My friends think I spent a fortune.

By Ivory