My husband has been bugging me to have a sprinkler system installed since we bought our house four years ago. He finally gave up on having the system installed, went to Home Depot and figured out how to do it on his own. This is what we did.
We measured our yard, figuring we would need a sprinkler head every 15 feet. We decided to start slow and only did our front flower bed and next to the driveway. When we got going, we decided to do a portion next to the front sidewalk as well. Next spring (when the ground is nice and soft), we are going to do the rest of the yard and maybe the back yard too.
Instead of a timer, we attached the system directly to our front hose spigot, using a splitter so we can use the regular hose as well. We then attached this to 1/2 PVC pipe using an adaptor. Nearly all of these parts were found in the plumbing/sprinkler section of Home Depot. We bought two 90 degree sprinkler heads and two 180 degree heads (for the middle parts) that were rated for 15 feet.
They rotate, covering over half our yard, and are adjustable to avoid water waste. We also bought one 180 degree and two 90 degree small pop up heads for the flower bed in the front. These ones just spray out water a short distance.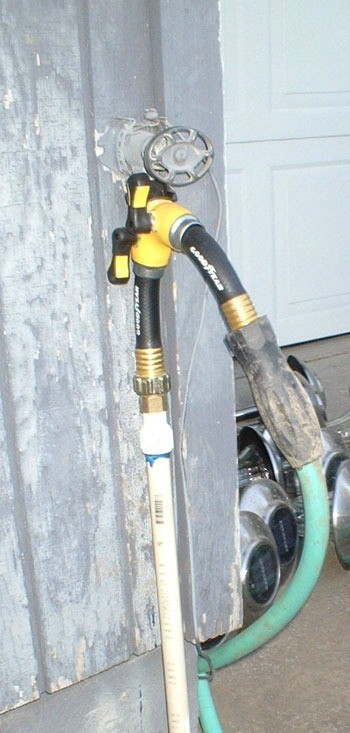 We also needed PVC T-connectors, splitters and extenders, flexible risers, PVC glue and plumbers tape for the threaded parts. I would measure everything twice and make sure you have a list of everything you need. I know we went to Home Depot at least 6 times on the two weekends we did this, always for some part that we didn't think about or a piece grabbed out of the wrong box. Frugal Note: Sometimes the large bags of connectors are actually cheaper than buying the individual pieces. Even though you get more than you need, you might actually wind up needing them by the end.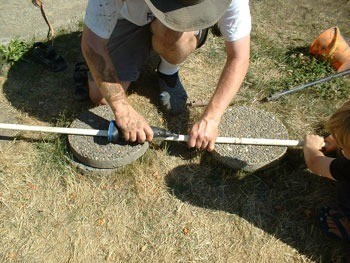 In order to install this, we needed to dig a narrow trench of approximately 12 inches deep. We used a pickaxe, shovels and trowels to do this. The most difficult part was the walkway between the hose and the front yard that leads up to our front door. We needed to dig a trench underneath the concrete. A bit of research online told us that the best way to do this is to blast it out with water. This had the added bonus of softening the rest of the soil, making it easier to dig but it was very messy.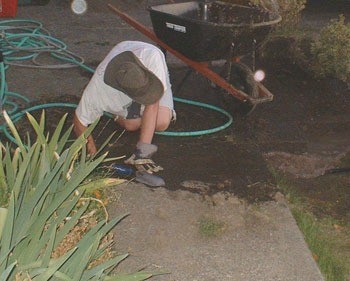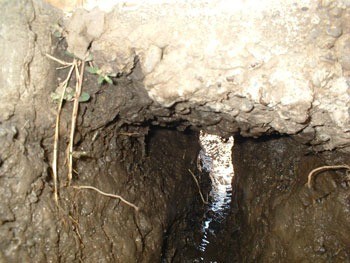 Once (about a day and a half's worth of work) we had the trench ready and relatively dried out, we remeasured everything then cut and fit the PVC together. It was the biggest toy my boys have ever seen. We used our handy Dremel to cut the PVC pipe to the correct lengths. Luckily, this is not precision work as a 1/4 inch either way is usually fine. Once we had the whole thing set up, we took it all apart and then cleaned and glued the PVC together.
I wish we would have marked each piece with a letter or something to keep them straight when we took them apart. Learn from our mistake, you cannot be too organized. The PVC glue is stinky and takes about an hour to dry so it's time for a well deserved break.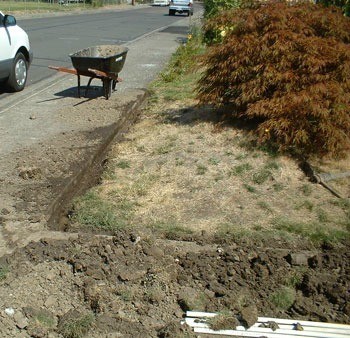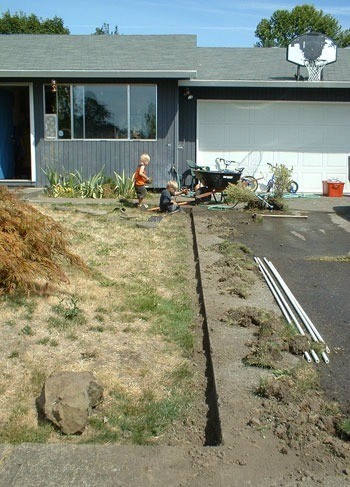 After you have everything attached and the glue has set up for the appropriate time, it's time to test out the system. Don't put the dirt back in until you know everything is in perfect working order. The sprinkler heads should be a little higher than level with the ground as they will sink down a bit as they settle. You will probably need to pack dirt around and below the head to keep it in place. Try to make sure that you have the head pointed the correct direction as it is a hassle to fix later when it is spraying all over the driveway instead of the lawn.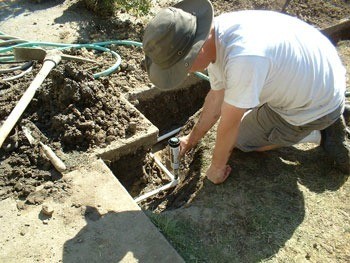 Fill it in and tamp it down. You will probably have more dirt left over but that is ok, pile it up and wait about a week. The dirt will settle and you will need to fill it again.
Now you have the fun of adjusting the water pressure and radius. I would recommend always turning your water on full and making sure that the adjustments are set at each sprinkler head. It is much easier to turn it on full than to try to remember the exact right setting. Adjust each head so that all the water goes on the ground, not on pavement. It took a couple of weeks of tweaking them before my husband was satisfied.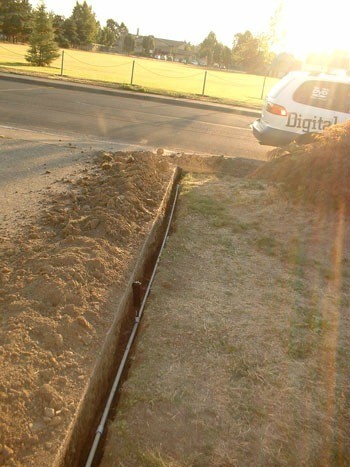 That's it. With a little time, care and patience, you can do this project with some help. Here are some hints that we learned in the process: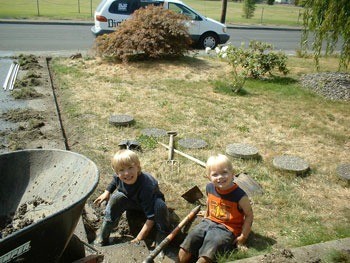 Call Dig Safe before you start. You can look at your water utility or gas utility webpage for your local number. You don't want to break a water main or worse.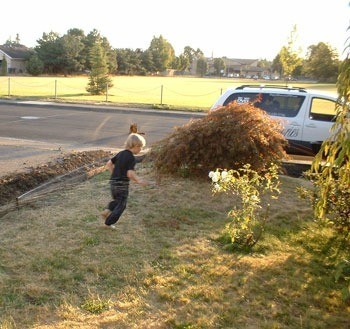 Don't try to do this in the hot summer. Spring or Fall would be best because the ground is soft. This is a lot of physical work and you don't want to collapse of heat exhaustion halfway through. If you are doing a lot of digging, there are machines you can rent. Check with a local company who installs systems or your local hardware store.
Make sure that you have straight, not threaded, PVC pipes and connectors when you are connecting the main pipes. You will need to have threaded ones to attach to the sprinkler heads but straight ones connect well with the glue
Use flexible risers so they can withstand being walked on or, even worse, driven over.
Be frugal but not cheap. Buy the best sprinkler heads you can afford but do some research first. Rainbird are the most expensive but we found that the Orbit brand seemed very comparable and much less expensive. But buy metal instead of plastic heads so they last longer. You really don't want to have to do this again in a few years.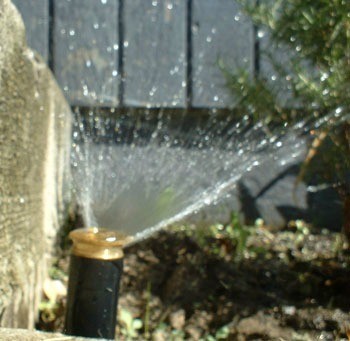 Install a drain at the endpoint or plan to use an air compressor to blow out your pipes before the ground freezes. We live in Portland, OR so it doesn't get very cold during the winter but I really don't want to have to replace any pipes because they burst. Our neighbor (who it turns out, has experience with his own system) came over to check out our work (complete with a lawn chair). He gave us this tip and offered his air compressor when the time comes. It's nice to have neighbors.
Salvage any sod pieces when digging up lawn. We just plugged in big pieces of sod back on top of the loose dirt. It usually does pretty well, especially because you now have assured a water supply. You can also put down grass seed or even flowers, if around the edge.
Don't forget to turn it off. Although a timer would be nice, you need to have electricity for the timer part. We didn't feel up to the added wiring or expense. We usually leave it on for about 15 minutes at dusk.
Good Luck! I'll keep you all posted if we run into any problems over the winter.