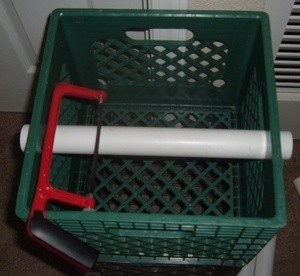 Editor's Note: This post was submitted right after our founder, Susan Sanders-Kinzel passed away in December 2008. Her thrifty spirit is still alive today because of dedicated members like Sandi.
Recently, I needed some white plastic shelves put back together in a closet. However, I had a gap that didn't reach the top, but the full height of the shelf was too high.
So, I decided to use my trusty dusty little 3.97 hacksaw and cut the PVC like supports down. But, without a vise, it's hard to hold them.
Then, I swear, I thought to myself "What would Susan do"?
I had a couple of milk cartons (crates) stacked on each other, and slid one tube inside the hand cutouts, and was able to press the tube forward and cut it, without it sliding! It would work for wood dowels, etc.
I took a photo and went right to the computer to log on and submit it, when I heard the news about our wonderful and wise leader.
It took me a while to decide if I even wanted to submit anything anymore. I was not sure that her family was going to continue on and getting paid for ideas just seemed "tacky" for some reason. Then, I read so many things that she did and what we all said about her, and I thought she would want us all to keep up the good work she had started. So, here I am again.
I will start making some submissions of Valentines crafts, but I have to admit, I don't have as many as I did Christmas. However, I will keep going and keep thinking "Wow, wouldn't Susan have loved this one"!
By Sandra from Salem, OR
By Wes Wong (Guest Post)
January 14, 2009
0

found this helpful
Top Comment
If you have a selection of milk crates to choose from some, instead of having an oval hole to put the PVC through, have a triangular hole which works even better because the 'v' shape on the bottom of the hole, holds the pipe/dowel more securely.
February 8, 2009
0

found this helpful
Top Comment
My favorite way to cut PVC is to use a pipe cutter. I found one at a local salvage store for a very reasonable price. I can hold the pipe with my left hand and spin the pipe cutter with my right hand.
You turn the pipe cutter around once or twice, and then tighten the screw down a little bit to take a deeper bite.