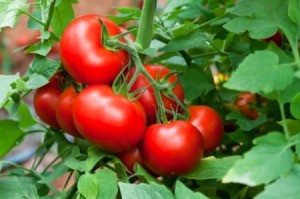 The best way I found to water tomatoes underground is some PVC pipe with holes drilled in it and then covered with one leg of panty hose and buried as deep or deeper than you bury the roots of your plants (by the time I set my tom's out they are usually buried at least 2 feet deep, I start from seed and constantly set them deeper and deeper so they develop huge roots). I also start the hole earlier and deeper than I am setting the plants and mix in some goat or rabbit manure, mix it with some of the soil (the plant roots will eventually find that food) and backfill.
Don't drill any holes in the above ground part of the pipe, just cover the top opening with some foil or a PVC cap to keep bugs and dirt out. The pantyhose will prevent the soil from clogging up the holes below ground and allow free flowing water and manure tea. I also add 3 Tbsp of Epsom salts to help add magnesium and other trace minerals. (not more often than once every 3 months)
If you are growing beefsteaks, then try adding one pipe on each side of the plant. To feed the tomato roots, you can cut a soda bottle in half and use it for a funnel, the opening will fit inside the pipe to make it easier to feed and water them. I also remove the suckers as I see them and if they are large enough, I root them in a small glass of water and plant them out too to add to my garden.
My largest tomatoes this past season were 18 inches around! (quite meaty and there were tons of them)
By Virginia from Brownsville, OR
Comments
Read More

Comments